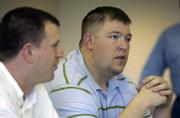 Shawnee — Blake Larsen wishes he could have been just another guy on campus.
A police officer in suburban Kansas City, it was only a few years ago the 6-foot-7, 320-pound offensive lineman was the prized recruit of the University of Iowa. He was a Parade All-American, rated by several experts as the top offensive line prospect in the country.
Larsen never started a game.
"It's tough to stay grounded," he said, reflecting on a promising career gone awry. "You're the center of attention. You start to believe your own hype."
Larsen quit the Hawkeyes program after his junior year, one of many former high school stars whose college careers are tarnished by unfulfilled, and often unrealistic, expectations.
While injuries and academic problems have doomed many, experts and administrators increasingly say external influences - mainly fans and the media - are contributing to the downfall of high school athletes when they reach college.
In some cases, players develop a sense of entitlement that sets them up for failure, said Dr. Doug Gardner, a sports psychologist with ThinkSport Consulting Service in Lafayette, Calif. In other cases, athletes wilt under the pressure and scrutiny.
"A lot of young people get totally absorbed in the situation," Gardner said. "They're flattered that someone is interested in them."
Reform needed?
R. Gerald Turner, co-chair of the Knight Commission on Intercollegiate Athletics, said the increased attention is "dramatically impinging upon the lives of student-athletes," turning them into commodities by people "who care nothing about them other than their news value."
Turner, the longtime president of Southern Methodist University, said there is a pressing need for reform in recruiting, but acknowledges there is no good way to curtail growing public interest.
"We've become very concerned with the intrusiveness of the whole process on the lives of these young people," Turner said, "as if nothing about college is of importance other than how many stars they get on their athletic ranking."
Companies such as Rivals.com and Scout.com have found a niche in recruiting coverage, and in turn are becoming the target of athletics reformers like Turner.
By the time the football signing period ended April 1, both sites had posted extensive profiles on nearly every player who signed a Division I letter of intent. Most were accompanied by photographs and video clips.
The news comes at a price, though. Many athletes say they get phone calls from reporters at least once a week, often more. Letters, e-mails and text-messages are almost constant.
"There are obviously some (players) who enjoy it," Turner said, "but plenty of others and their parents are crying out for a more controlled system."
Unrivaled Rivals
Bobby Burton, editor-in-chief for Nashville, Tenn.-based Rivals.com, argues that his Web site provides a valuable watchdog service over the sometimes seedy world of recruiting, while delivering a product fans crave.
The popular network logged 1.6 billion page views last year, and many prospects and college athletes have subscriptions. Rivals.com consistently rates as one of the "stickiest" sports sites on the Internet, according to comScore Media Metrix, which compares the amount of time people spend on a Web site.
"It's up to the player to make the decision when enough's enough," said Burton, who believes parents and coaches must be more actively involved in the recruiting process. "It's their decision. It's not the school's decision. It's not the committee's decision."
Patrick Crumb, senior vice president of Fox Media Interactive, which owns Scout.com, believes recruiting coverage has become mainstream. USA Today, ESPN and others cover it, particularly around national signing day in February.
"We're certainly cognizant of the fact that we're dealing with teenagers and young adults," Crumb said. "But I think we're gaining quite a bit of credibility."
'Undue pressure'
Not among coaches like Iowa's Kirk Ferentz, who said the attention creates "undue and unnormal pressure" on highly touted recruits that causes more to wash out than in years past.
"The exposure to recruiting is greater now than it's ever been," Ferentz said. "There's a stronger interest - not always healthy - but a stronger interest in recruiting than ever before."
In the recruiting class of 2002, nine of the top 100 players identified by Rivals.com didn't make it to campus, falling short academically or running into legal problems. Thirty-one did not play their entire career at the school where they signed, excluding a handful who left early for the NFL.
While Vince Young led the University of Texas to the 2006 national title, Garnet Smith and Marquis Johnson virtually disappeared. Ten players from Young's signing class were no longer part of the Longhorns program four years later.
"The pressure the outside sources put on you, expectations get real high," Arkansas coach Houston Nutt said. "We've had a lot of five stars that didn't pan out.
"It just seems like it's out of hand. You just have to keep up with the faith that there will be something or some legislation to rein it in."
Ray Reitz, a football coach at Pennsylvania's Jeannette High School for the past 25 years, said the attention he gets for junior quarterback Terrelle Pryor - who has more than a dozen offers from the likes of Michigan and Penn State - is staggering.
"The danger of society right now is kids are skipping these years, adolescent to adult," Reitz said. "There's people out there exploiting kids like this."
'He was down a lot'
Cathy Larsen thinks her son missed out on growing up.
She remembers the Internet message boards ripping on Blake Larsen when he did not make an immediate impact at Iowa. Those who lauded him began to attack him.
"It's hard, because you have to live up to that," Cathy Larsen said. "He would call home and you could just tell in his voice. He was down a lot."
Blake Larsen contends he's still a success, unlike so many other high-profile recruits who flame out. Larsen earned a degree, met his wife at Iowa and landed a job he loves.
But, he acknowledges, his football career might have turned out differently if not for the attention he received in high school. He considers a former teammate, Bob Sanders, who arrived on campus relatively unknown and blossomed into a star for the Indianapolis Colts.
"He's a Super Bowl champion now," Larsen said. "When they do something great, it really opens eyes. If you're already getting all the hype, it's pretty much, 'He was supposed to do that.'"
Copyright 2018 The Associated Press. All rights reserved. This material may not be published, broadcast, rewritten or redistributed. We strive to uphold our values for every story published.