Photo Gallery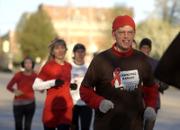 Douglas County AIDS walk/run
About 300 people pounded the pavement in below-average temperatures Saturday to raise money to help fight AIDS.
The annual AIDS Walk fundraiser benefits the Douglas County AIDS Project.
"This has to be one of the biggest shows of community support," said Laney Allbritten, who is HIV-positive and benefits from the organization's services. "It's just really a day of encouragement."
Entrants had the choice of walking a mile or running 5 kilometers. Most gave at least $20 to participate.
Brent Marrowbone and Jack Hope, both of Lawrence, finished the 5K together. They claimed to be first, with a time of 22:58, though there wasn't an official finish line.
"I'm competitive, but it's nice to ... help somebody else at the same time," said Hope, 59, while eating a free breakfast provided at Maceli's, 1031 N.H., after the race. "I win, they win."
"I'm here for support," Marrowbone said. "I don't compete."
Some participants carried various signs during the walk to show their support.
About $23,000 was raised through entry fees and other contributions, falling shy of the organization's $30,000 goal. Still, the event had more participants and raised more money than it has in its approximately 15-year history, said Kristin Brumm, executive director.
The organization provides case management, education and outreach to more than 70 clients living with HIV and AIDS in Douglas, Franklin and Jefferson counties each year. It also receives funding from government grants and private foundations.
Allbritten, 25, said for her, the event is more than a fundraiser. It's also spreading the word about the disease.
"With the efforts that organizations like this have made, there really is a decrease in the stigma" that comes with AIDS, she said.
"Not only is it a great fundraiser for us ... but it brings people in the community together in a fun way, to support those who are living with AIDS," Brumm said. "The support is growing in the community."
Copyright 2018 The Lawrence Journal-World. All rights reserved. This material may not be published, broadcast, rewritten or redistributed. We strive to uphold our values for every story published.