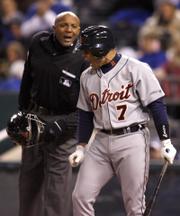 Kansas City, Mo. — Tony Pena Jr. is still learning how to bunt. If he keeps hitting like this, it won't matter.
Pena's third triple in four games keyed a two-run seventh inning, and the Kansas City Royals beat the Detroit Tigers, 3-1, Friday night.
The young shortstop popped out on his first bunt attempt of the night, so manager Buddy Bell decided to let him hit away with the potential go-ahead run on second and nobody out in the seventh. The result was an RBI triple in a classic sacrifice situation.
"We'll let him hit triples for a while until he learns how to bunt," Bell said with a grin. "He's a delightful kid. He's a respectful kid. He knows he's got to work on a few things. He's going to have to work on his bunting."
Bell said he definitely would've had Pena bunt in the seventh if he had any confidence in his ability to execute. Pena, who became the first player since 1950 to have two triples on opening day, admitted he was a bit surprised not to have the bunt sign a second time.
"I was ready for whatever," he said. "You go out there and see the signs, and after that just try to do your job. Against a good pitcher like that, you're just trying not to strike out."
On a day when wintry weather plagued baseball throughout the Midwest, it was 35 degrees at gametime, and by the sixth inning, temperatures had dipped to 31, and gusty winds drove the wind chill down to 23.
"That might have been one of the most miserable nights I think I ever spent at a baseball game," Bell said.
Justin Verlander went six innings and gave up only two hits and one unearned run. He was replaced starting the seventh by Jose Mesa (0-1), and the 17-year veteran gave up a leadoff double to Jason LaRue, Pena's RBI triple and an RBI single to David DeJesus. Mesa recorded only one out in his first appearance as a Tiger before being replaced by Wilfredo Ledezma.
Jorge De La Rosa (1-0) went a career-high seven innings in his first start of the year. The left-hander gave up only four hits and one run. De La Rosa, who walked three and struck out five, did not give up a hit until Carlos Guillen's sinking liner into center field with two outs in the fourth.
Verlander came into the game with a 3-0 career record and a 0.86 ERA against Kansas City.
"I felt I had good control most of the time," said Verlander, who was making his first start of the year.
He got in trouble in the fifth when he walked the bases loaded with two out. But Mike Sweeney took a called third strike on a 2-2 pitch on the outside corner.
"The walks, a couple could have gone either way. That's baseball," Verlander said. "Sometimes they go the hitter's way, sometimes they go the pitcher's way. I'm really not too upset other than the fact I did walk those guys. Had I not, I might have gone longer in the game."
David Riske, pitching in short sleeves while several Tiger players had facemasks to protect their cheeks, worked a perfect ninth for his first save.
"I played in Cleveland where its close to Lake Erie and I still can't remember it being that cold," Riske said. "That was cold. I was out there shaking on the mound, freezing. I can't pitch with sleeves. I never have. I wasn't trying to be a tough guy, believe me."
Copyright 2018 The Associated Press. All rights reserved. This material may not be published, broadcast, rewritten or redistributed. We strive to uphold our values for every story published.