The wind was blowing out of Hoglund Ballpark so hard, it was inviting an offensive surge. But Kansas University's baseball team first had to figure out Texas starter Adrian Alaniz, one of the country's best throwers.
Surprisingly, it wasn't much of a problem at all.
The Jayhawks smacked 12 hits and defeated No. 7 Texas, 14-6, on a chilly Friday. Alaniz, coming in undefeated as a starting pitcher and sporting a 1.75 earned-run average, was chased in the fourth inning and allowed an unheard-of six runs.
"Good things are going to happen if you go out there and put the bat on the ball," KU shortstop Erik Morrison said. "The law of averages says the ball is going to fall once in a while."
Yeah, but no law dictates Alaniz (8-2) should get his bell rung like that. The UT junior struggled at his craft Friday, giving up six hits, walking two and throwing two wild pitches in three-plus innings.
Five of the six runs he allowed were earned. To put it in perspective, he allowed just four earned runs in his last five starts combined.
"My rhythm was off," said Alaniz, whose only other loss was in relief on Feb. 9. "I just had a hard time throwing my pitches. It definitely showed out there today. It was one of those performances you just want to put behind you."
The Jayhawks (18-19 overall, 4-7 Big 12 Conference) had hits from nine different players and home runs from unlikely sources. Seldom-used designated hitter Casey Larson drove two balls out to dead center field, and John Allman went opposite field for his first homer of the season.
Photo Gallery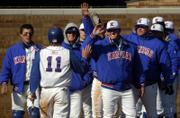 KU baseball vs. Texas
Larson's second blast started a six-run fourth inning for the Jayhawks, and they were able to cruise afterward.
"We had some really good at-bats over the course of the inning," KU coach Ritch Price said. "They continued to have trouble throwing strikes, and we took advantage of it."
The Jayhawks had enough runs by that point, but continued to circle the bases the rest of the game. Morrison, Ryne Price and Larson each had a pair of hits, and eight players drove in runs.
"A lot of what we talk about is working for the big inning and feeding off other guys," Morrison said. "When you feed off other guys, that kind of pumps you up for your at-bat. It is contagious."
KU's Andres Esquibel earned the win in relief, though it was the offense that essentially won the game. Zach Ashwood started and allowed three runs in three innings. Paul Smyth pitched effectively, allowing just two meaningless hits in the final 2 1/3 innings.
"I'm proud of this team," Price said. "We continue to battle back. Every time we get beat, we fight back the next day and find ways to get it done."
Kansas now goes for the series win at 1 p.m. today at Hoglund Ballpark. It projects to be the battle of the southpaws, with UT's Joseph Krebs going against KU's Andy Marks.
Copyright 2018 The Lawrence Journal-World. All rights reserved. This material may not be published, broadcast, rewritten or redistributed. We strive to uphold our values for every story published.