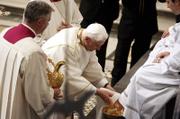 Rome — Pope Benedict XVI bathed the feet of 12 laymen in a Rome basilica in a Holy Thursday tradition symbolizing humility, as he kept up an intense schedule of public ceremonies that will culminate on Easter.
Bending over, the pope poured water from a golden pitcher of the feet of the men, who wore white robes and were seated in a row. Benedict then used a white cloth to dry the feet of the men, who were drawn from the laity of the Diocese of Rome. As pontiff, Benedict is also bishop of Rome.
The feet-washing ritual by the pontiff, who wore gold-colored vestments, represents Jesus' humility toward his apostles during the Last Supper, on the day before he was crucified, and serves to remind today's faithful that they should be at the service of others.
The Vatican said that the monetary offering from faithful presented to the pope at the Holy Thursday Mass in St. John Lateran Basilica would help support a medical dispensary in Baidoa, Somalia.
Benedict, who turns 80 on April 16, was making one of several Holy Week appearances.
On Thursday morning, he celebrated a Mass with cardinals, bishops and other clergy in St. Peter's Basilica.
Today's Good Friday appearances include a commemoration in the Vatican basilica of Jesus' suffering before his crucifixion, and in the evening, the pope will go to the Colosseum for the traditional Way of the Cross procession
The pope will lead two services to mark Easter, the most important day on the church calendar. On Saturday night, he presides at a vigil service in St. Peter's Basilica, and on Sunday morning, he will celebrate Mass in what it is expected to be a packed St. Peter's Square.
On Sunday afternoon, the pope heads to his holiday residence in Castel Gandolfo for a week's break from Vatican City. Pilgrims and tourists can receive his blessing at the papal palace in the town in the Alban Hills outside Rome when he makes an appearance Monday.
Copyright 2018 The Associated Press. All rights reserved. This material may not be published, broadcast, rewritten or redistributed. We strive to uphold our values for every story published.