The only pitches finding any part of the plate were the straight ones. And that was bad news for Kansas University's baseball team.
No. 7 Texas finally broke through in the eighth inning of its 11-6 victory on Thursday, plating five runs against KU reliever Hiarali Garcia by sitting fastball and drilling it all over Hoglund Ballpark.
It was a rough day for Garcia, who faced 10 batters in that dismal inning and had no one in the bullpen ready to relieve him.
Considering how it unfolded, it was almost inevitable that he'd get a few bumps and bruises.
"He's a pure fastball guy. His offspeed pitches aren't very good," KU coach Ritch Price said. "If you're going to pitch against Texas, you have to pitch with all three pitches. He was only able to get his fastball over, and they're one of the better-hitting fastball teams in America. It's a tough matchup."
Texas was up just 6-4 after seven innings, with the pesky Jayhawks sticking close with two-run innings in the second and fifth. But UT senior Nick Peoples led off the eighth with a home run, and as it turned out, he ended the eighth after Texas batted around by lining out to center field. Five runs ended up scoring.
Peoples hit eighth in UT's order and went 3-for-5 with a double and a dinger, showing just how stacked UT's lineup is.
"Our offense is awesome," Texas starting pitcher James Russell said. "If I give up a run, I don't feel too worried because I know we can score at will."
Photo Gallery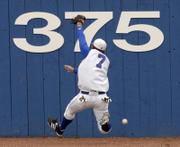 KU baseball vs. Texas
Neither Russell nor KU starter Nick Czyz were dominant on the chilly day, but each gave his team a chance. Czyz struck out seven batters, and allowed just five earned runs in six innings of work. One of his earned runs crossed because of a misjudging of a ball smacked to the outfield.
Russell, meanwhile, gave up a two-run double to Buck Afenir in the second and a two-run home run to Brock Simpson in the fifth. But he struck out seven, too, before giving way to side-arming reliever Keith Shinaberry in the seventh.
"I thought this was a really good college baseball game for the conditions we were playing in and how cold it is," Price said of the 39-degree day. "I thought the guys pitched well. I didn't expect that with these conditions."
Kansas dropped to 17-19 overall, including a 3-7 mark in Big 12 Conference play. Texas improved to 27-9 and 8-2.
The two teams will meet again at 3 p.m. today in the middle game of the three-game set. And the Jayhawks go in now knowing first-hand how potent the Longhorns are.
Particularly if they know what pitch should be coming.
"We got behind in the count and had to pitch with the fastball in the eighth inning," Price said, "and they beat us up."
Copyright 2018 The Lawrence Journal-World. All rights reserved. This material may not be published, broadcast, rewritten or redistributed. We strive to uphold our values for every story published.