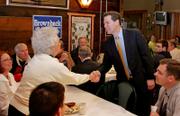 Burlington, Iowa — Sen. Sam Brownback, R-Kan., said Thursday that pulling troops out of Iraq would be a defeat for the U.S. and that no deadline should be set for their withdrawal.
Brownback was in Burlington, where he met with about 30 people during lunch at a local restaurant. He was in Des Moines earlier in the day for a Holy Week prayer breakfast. He is schedule to attend another prayer breakfast in Cedar Rapids today as he tries to gain support among Iowa's religious conservatives.
Brownback broke with GOP leadership when he opposed President Bush's decision to increase troop levels in Iraq, but on Thursday he said U.S. forces must stay in Iraq for the foreseeable future.
"To set a deadline to pull out is to set a date that we are defeated," he said.
Brownback's plan for peace in Iraq includes dividing the country into three states bonded by a central government. That would give Sunnis, Shiites and Kurds their own territories, which would be loosely controlled by the central government.
Such a solution has worked in Bosnia, he said.
Brownback also talked about education, saying he supports changes to the No Child Left Behind Act to give greater decision-making power to states and local schools.
The Kansas senator said he opposes some Democrats' plans for universal health care. He said instead of increasing government's role in health care, people should be given more decision-making power, including control of their own health records and access to prices charged for certain medical procedures.
Brownback said he isn't worried about the attention being given to his GOP rivals, including former New York Mayor Rudy Giuliani, Arizona Sen. John McCain or former Massachusetts Gov. Mitt Romney.
He said he trailed in the polls by 28 percentage points when he first ran for Congress but ended up with a double-digit win.
"I'm the tortoise in this race," Brownback said. "I don't like how those races start. I like how they finish."
Copyright 2018 The Associated Press. All rights reserved. This material may not be published, broadcast, rewritten or redistributed. We strive to uphold our values for every story published.