Manhattan — Kansas State gave Bob Huggins a second chance.
So did West Virginia, the school Huggins spurned five years ago.
Huggins took them both, a year apart. On Thursday, he resigned to become the Mountaineers' men's basketball coach after one season with Kansas State.
Although administrators thanked Huggins for turning around the Wildcats' fortunes, they weren't too happy about his dash out of town.
"Bob is a good guy. I think he made a bad decision, but he is a good person," athletic director Tim Weiser said. "He was great to work with. He is much different than I think he is portrayed as being."
Huggins flew from Manhattan to Charleston, W.Va., on Thursday evening. Upon his arrival, he got into a car without speaking to reporters.
He replaces John Beilein, who left the Mountaineers on Tuesday to become Michigan's coach.
"You should know that we moved heaven and earth to keep Bob Huggins here," school president Jon Wefald said. "Tim in effect said, 'You tell us what your salary should be. Whatever West Virginia is offering, we will match it and then some. Same for the assistant coaches."'
Huggins told Weiser and Wefald of his decision Wednesday night, after returning from Cincinnati.
"I asked him, 'Bob, do you think leaving now is the right thing to do?' And he said, 'No,"' Weiser said. "Then I said, 'How many times in your life have you known what the right thing is to do and not done it?' And he said, 'Never."'
Huggins was born in Morgantown, W.Va., although he grew up in Ohio. He played his last two college seasons for the Mountaineers and holds bachelor's and master's degrees from West Virginia, where he was a graduate assistant for the 1977-78 season.
Before arriving at Kansas State, Huggins coached for 16 seasons at Cincinnati, leading the Bearcats to 14 consecutive NCAA tournaments and one Final Four. He stayed on despite a massive heart attack in 2003 - missing only two weeks before returning to the team - but couldn't overcome other issues.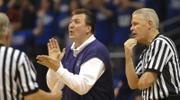 His arrest and conviction for drunken driving in 2004 upset president Nancy Zimpher, and he was forced to resign over issues that included players' arrests, suspensions and low graduation rates.
Huggins was out of coaching for a year before he was hired at Kansas State. Had the school known he would be gone again so soon, Wefald said, he wouldn't have been the Wildcats' coach at all.
"If Bob had indicated to us about a year ago this time that he needed something in his contract about his alma mater, then we would have gone on," Wefald said. "We would have looked at somebody else."
Huggins' contract requires him to pay Kansas State $100,000 for leaving early.
Given that Beilein's paying a lot of money to leave West Virginia, Weiser said he anticipated criticism for not including a similarly hefty penalty in Huggins' contract.
"I'm sitting here and looking at a $2.5 million buyout that John Beilein had," Weiser said. "Boy, that did a lot of good, didn't it?"
Weiser also said he would not consider granting releases to Huggins' recruiting class - considered one of the nation's best with 6-foot-9 Michael Beasley - until a new coach has been hired.
Huggins' arrival in Manhattan last spring injected a massive dose of enthusiasm into a program that had fallen into mediocrity with the creation of the Big 12 Conference.
Bramlage Coliseum saw its first season-ticket sellout since the doors opened in 1987, and fans sported purple T-shirts reading "Welcome to Huggieville" - a play on Huggins' name and the Aggieville bar district near campus.
Those shirts now read "Welcome to Traitorville," with the "Huggie" part crossed out.
"We just started selling those about an hour ago, and we've already sold at least 10 of them," said Katelynn Hasler, a Kansas State junior working at Ballard's Sporting Goods in Aggieville.
Kansas State went 23-12 this season, two wins shy of the school single-season record for victories. The Wildcats were 10-6 in the Big 12, their best finish since the conference formed in 1996. Still, they did not make the NCAA tournament, settling instead for a NIT bid.
At least one fan was grateful for the success.
"I can't say I didn't think it would be a tough thing for him to decide, but I think the program here at K-State is going to benefit a lot from having him around for just a year," sophomore Sam Arends said. "If that's his decision, then that's his decision."
Copyright 2018 The Associated Press. All rights reserved. This material may not be published, broadcast, rewritten or redistributed. We strive to uphold our values for every story published.