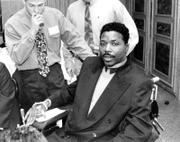 Chicago — Darryl Stingley, paralyzed after a vicious hit during an NFL exhibition game nearly 30 years ago, died Thursday. He was 55.
Stingley was pronounced dead at Northwestern Memorial Hospital after he was found unresponsive in his Chicago home, according to Tony Brucci, an investigator with the Cook County medical examiner's office.
Stingley, a receiver with the New England Patriots, was left a quadriplegic after he collided with Oakland's Jack Tatum while trying to catch a pass in an exhibition game on Aug. 12, 1978.
It broke Stingley's neck, and he spent the rest of his life in a wheelchair. Stingley regained limited movement in his right arm and operated his electric wheelchair on his own.
The autopsy revealed contributing factors in Stingley's death were bronchial pneumonia, quadriplegia, spinal cord injury and coronary atherosclerosis, the medical examiner's office said.
There has long been debate in Boston and Oakland, Calif. over the circumstances of the hit on Stingley.
Both Gene Upshaw, who played in the game for the Raiders, and Steve Grogan, who threw the pass for New England, said it was a collision, not a hit from behind. There was no penalty on the play, and Grogan's objection was that the hit came in a game that didn't count.
"That hit probably was not necessary in a game with no meaning," Grogan said.
It also ignited debates about the violence of the game and made Tatum, who had a reputation as one of the game's fiercest defenders, a subject of controversy.
The two players never reconciled. In 1996, they were supposed to meet for a TV appearance, but Stingley called it off after being told it was to publicize Tatum's book: "Final Confessions of NFL Assassin Jack Tatum."
Stingley served as executive director of player personnel for the Patriots and often visited paralyzed patients. He wrote a book about his experiences titled "Happy to Be Alive," published in 1983, and 10 years later started a nonprofit foundation in Chicago designed to help inner-city youth.
In a 1988 Associated Press interview, he talked about the day that changed his life.
"I have relived that moment over and over again," Stingley said. "I was 26 years old at the time and I remember thinking, 'What's going to happen to me? If I live, what am I going to be like?' And then there were all those whys, whys, whys?
"It was only after I stopped asking why, that I was able to regroup and go on my with my life," he said.
Saints cut kicker Carney
New Orleans - As requested, the Saints released kicker John Carney on Thursday, two days after trading for Olindo Mare. The 43-year-old Carney was the Saints' all-time leader in field goal accuracy percentage (.833). He joined the Saints in 2001 and will be entering his 18th NFL season. Carney is ranked second in club history with 661 points and 150 field goals. In 2002, he set a team record for points in a season with 130.
Copyright 2018 The Associated Press. All rights reserved. This material may not be published, broadcast, rewritten or redistributed. We strive to uphold our values for every story published.