Martinsville, Va. — There is no delusion for Michael Waltrip. He knows how bad things have been for him and his race team so far in this Nextel Cup season.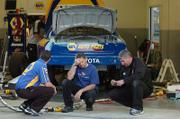 "We're pretty deep into this and we haven't shown any results," Waltrip said. "One of these days I might get a call to either go away or stay home, and that's a scary thought. ... There's a thin line between success and failure in this business and we're on the wrong side of it right now."
As the driver of the No. 55 Toyota, Waltrip has raced only one time this season. That was in the Daytona 500, where he earned a starting spot in a 150-mile heat race after its qualifying lap was wiped out because of rules violations. He has failed to qualify for every race since.
As a car owner, it has been a struggle for Waltrip, too. Dale Jarrett has run in all six of the races so far this year, but four times he's needed a former champion's provisional to make it. And rookie David Reutimann has made only four of the six races in his No. 00 Camry.
"It all comes down to how the car performs when it rolls out onto the speedway," Waltrip said. "We haven't done a good job of that and that's disappointing. We can't point our fingers at any one particular thing. We just need to understand that, as a whole ... we just need to improve. We've got a lot of figuring out to do."
The hard part, of course, is that the best way to get better is to make laps. Waltrip hasn't been able to do that in nearly two months, at least not after getting in a little bit of practice on Fridays and then his qualifying laps.
"You work for seven days to get an hour-and-a-half of practice and two laps of qualifying to turn that all around," Waltrip said. "That is a very difficult take with the type of competition that's here."
Toyota, as a whole, has had very little success so far in its first season of Nextel Cup competition. After only two of its seven teams made the show at Las Vegas in the third race of the season, the three teams fielding Cup entries for the manufacturer this year agreed to start working more closely together to try to pick up the pace.
"We're building a race car under the guidance of Toyota Racing Development with our people," Waltrip said. "We thought six months ago we were doing a good job preparing, but when we got to the race track we found out we hadn't been.
"We didn't just sit around and scratch our heads trying to figure out what to do next. We asked for help from Toyota. We said, 'Please, show us what we can do better.'"
Waltrip remains confident that Toyota and his teams' sponsors will maintain their patience as his teams try to weather the storm.
"They understand the challenges we're faced with and they know how long it's going to take to be successful," Waltrip said. "Whatever we need, they listen. ... (The sponsors) are paying a majority of the bills and they don't want to hear about being here for a long time. They want to be here on Sundays.
"We have to start doing better at that. It's not due to lack of effort. We feel like we're learning every day. But when you come to the race track, it's such a thin line."
Copyright 2018 The Lawrence Journal-World. All rights reserved. This material may not be published, broadcast, rewritten or redistributed. We strive to uphold our values for every story published.