Kansas University football coach Mark Mangino insists that he has no choice to make when it comes to a starting quarterback.
"I'm not picking anybody," Mangino said. "Somebody's going to win the job sooner or later."
Kerry Meier and Todd Reesing seemed to split duties evenly on Wednesday, when KU opened practice for the general public. And even though Meier might be considered the frontrunner, nobody has taken control of the job yet.
"I don't know," Mangino said, asked when he expects to have a starter emerge. "I really don't know."
So once again, the highest-profile position on offense is clouded in uncertainty, though that's not exactly a bad thing this year.
Both Meier and Reesing played as freshmen in 2006, both showing signs of great potential but also having freshman moments. Though Meier was the starter when healthy the whole year, Reesing received some meaningful snaps late in the year even when Meier was playing.
This spring, both quarterbacks are readjusting to a tweaked system and a new assistant coach, Ed Warinner. And Mangino likes the results so far.
"Progress is being made," Mangino said. "We're learning a lot of new things everyday, and I think that every day we add something new to it and keep building on it. They do a pretty good job with the things that we're repeating from the past and they're working on the new things. So far, I'm pleased."
Photo Gallery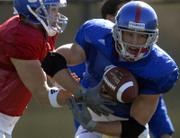 KU football spring practice
The quarterbacks, who haven't been made available to the media this spring, are strikingly different though neither is considered a strict pocket passer.
Meier, at 6-foot-3, 215 pounds, plays more like a running back when flushed out of the pocket, often tucking and running for gains. He executed an option read play perfectly on Wednesday, running up the left sideline for a 40-yard touchdown against the first-team defense.
Reesing, meanwhile, is just 5-11 and 190 pounds and doesn't have the running ability Meier has. Reesing's best moments in 2006, though, came when he was flushed out of the pocket and was forced to improvise. Instead of tucking and running, Reesing kept his head up and found receivers for big gains multiple times.
Audio Clips
2006-07 April 4 open practice
And so the competition continues. A year ago, Mangino insisted on having an answer by the end of spring ball to a similar competition, and he did by naming Meier the starter over Adam Barmann.
Publicly, there's no such timetable in place this year. Teammates instead are getting comfortable with both of them.
"They're both explosive with their legs. They're both smart. They both know the plays," junior Aqib Talib said. "It doesn't matter to me which one's in there. They both bring about the same thing to the table. They're both two explosive quarterbacks."
Copyright 2018 The Lawrence Journal-World. All rights reserved. This material may not be published, broadcast, rewritten or redistributed. We strive to uphold our values for every story published.