Facing the less talented NAIA school Kansas Wesleyan, the Kansas University baseball team used Wednesday's game for player development.
"It's a freshmen game for us. There's no doubt about it," KU coach Ritch Price said. "The purpose of the game was try to help those guys make progress."
Starting pitcher and first-year player Wally Marciel, who entered the game with a 6.33 earned-run average, pitched five scoreless innings, helping the Jayhawks post an 11-4 win at Hoglund Ballpark.
"The past outings have been kind of rough," Marciel said. "It's just good to come out with a good one today."
Relying on inside and off-speed pitches, Marciel (3-2) stymied the Coyotes as he worked toward earning a spot in the regular rotation.
KU (17-18) also received an opportunity to rest John Allman and Erik Morrison against Wesleyan (10-20). Price, whose team will play seven games in eight days by the conclusion of the weekend, wanted Allman (hands) and Morrison (ribs) to recuperate their injuries.
Both had played in 58 straight games.
"We obviously wanted to play our backup guys," Price said, "and get them in the game."
Left fielder Casey Larson made the most of his opportunity to start in place of Allman, going 2-for-3 and launching a fastball to right field for his first career home run, a two-run shot, during the sixth inning.
"It felt real good," Larson said. "I've been working hard and waiting patiently."
Kansas, though, capitalized mostly on poor throwing from Wesleyan. The Coyotes' pitchers lacked the arm strength to attack the Jayhawks with power pitches and struggled to locate their off-speed pitches.
Photo Gallery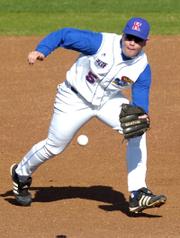 KU baseball vs. KS Wesleyan
"Our guys did a nice job laying off the off-speed stuff," Price said. "Sometimes the hardest guys for Big 12 hitters to hit are the guys that are under the radar gun, and their guys are."
Wesleyan starter Guy McGriff, who entered the game with a 10.22 ERA, beaned three KU batters during his one inning of action. The entire staff issued nine walks.
During the second inning, the Jayhawks broke the game open, taking advantage of one walk and three hit-by-pitches to notch six runs and take an 8-0 lead.
Marciel triumphed despite temperatures in the mid-40s - less than idyllic conditions for the pitcher from Kailua, Hawaii.
"I'm not gonna lie," he said. "It was cold."
Price joked that he hopes chilly weather strikes again when his team hosts Texas for a three-game series, starting this afternoon.
Game times for the UT series were changed because of the weather. KU and UT will play at 3 p.m. today and Friday and at 1 p.m. Saturday. The first two games originally were scheduled to be played in the evening.
"I don't think those Texas boys like the cold weather too much," Price said.
The Longhorns are ranked sixth in the USA Today/ESPN poll.
"We've got our hands full," Price said. "They're obviously the best team in our league. And they're one of the best teams in the country. And they're certainly a national title contender."
Copyright 2018 The Lawrence Journal-World. All rights reserved. This material may not be published, broadcast, rewritten or redistributed. We strive to uphold our values for every story published.