So much for home cooking.
Six days ago, Kansas University's softball team roared into a five-game homestand after winning eight of its previous nine games, all on the road.
But the Jayhawks dropped four of those five games at Arrocha Ballpark, the last a 3-0 decision to Nebraska on Wednesday afternoon.
Yep, it's a slump.
"Right now we need to pull together, not get mad at each other and not dig a hole," said senior Nicole Washburn, who collected one of the two hits the Jayhawks managed off NU right-hander Ashley DeBuhr. "We have to get through it."
Coach Tracy Bunge is looking for an answer, too, anything to turn the Jayhawks around with a road trip to Texas on tap this weekend.
"It's not something I'll say. They've heard it all already," Bunge said. "Maybe it's something to do in practice."
With those five home games played over a five-day span, the Jayhawks had precious little time to practice, but that's what they'll do today.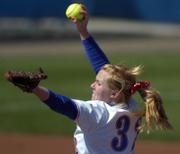 "I know the weather isn't supposed to be good," Bunge said, "but we'll go inside if we have to and hopefully have a solid practice."
With a raw wind blowing out of the northwest and the temperature hovering around 50 degrees, a couple of Nebraska players wore gloves and warm-up jackets throughout.
Not DeBuhr, though. Nebraska's senior right-hander gave only Washburn's ringing double to right-center-field in the fourth and a soft single to right by Amanda Jobe with two outs in the seventh.
DeBuhr fanned 12 and allowed only one other base-runner- a walk to Jobe to lead off the fifth.
"Ashley has done a great job the last three or four times she's faced us," Bunge said. "She's come a long way since she was a freshman. She doesn't make mistakes out over the plate."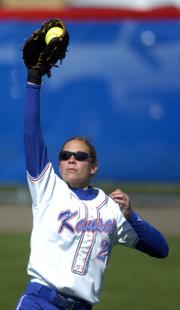 Meanwhile, Kansas sophomore right-hander Valerie George made very few mistakes in the circle. Nebraska had five hits, but only two were hit hard.
Nebraska scored twice in the first inning on an infield single, a hit batter, another single, a sacrifice fly and a throwing error on catcher Elle Pottorf.
After the Huskers added another run in the second on a single, a throwing error on centerfielder Dougie McCaulley, a sacrifice bunt and an RBI groundout, George retired the next 17 NU batters before giving a couple of harmless two-out hits in the seventh.
"I tried to come out aggressive in the first inning, and I wasn't today," said George whose nine-game win streak ended. "I didn't get my groove until the second inning."
In effect, though, George pitched well enough to win, but the other ingredients were missing.
"We went through the same thing last year," Washburn said. "Hopefully, it will end this weekend against Texas."
Copyright 2018 The Lawrence Journal-World. All rights reserved. This material may not be published, broadcast, rewritten or redistributed. We strive to uphold our values for every story published.