Tehran, Iran — President Mahmoud Ahmadinejad defused a growing confrontation with Britain, announcing the surprise release of 15 captive British sailors Wednesday and then gleefully accepting the crew's thanks and handshakes in what he called an Easter gift.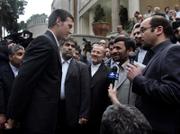 British Prime Minister Tony Blair expressed "profound relief" over the peaceful end to the 13-day crisis. "Throughout we have taken a measured approach - firm but calm, not negotiating, but not confronting either," Blair said in London, adding a message to the Iranian people that "we bear you no ill will."
The announcement in Tehran was a breakthrough in a crisis that had escalated over nearly two weeks, raising oil prices and fears of military conflict in the volatile region. The move to release the sailors suggested that Iran's hard-line leadership decided it had shown its strength but did not want to push the standoff too far.
Iran did not get the main thing it sought - a public apology for entering Iranian waters. Britain, which said its crew was in Iraqi waters when seized, insists it never offered a quid pro quo, either, instead relying on quiet diplomacy.
Syria, Iran's close ally, said it played a role in winning the release. "Syria exercised a sort of quiet diplomacy to solve this problem and encourage dialogue between the two parties," Syrian Foreign Minister Walid al-Moallem said in Damascus.
The announcement of the release came hours after U.S. House Speaker Nancy Pelosi met with President Bashar Assad in Damascus, trying to show that a U.S. dialogue with Syria - rejected by the Bush administration - could bring benefits for the Middle East. The British sailors were not part of their talks, and it was not clear whether the release was timed to coincide with her visit.
Iran's official news agency said the British crew was to leave Iran by plane at 8 a.m. today (11:30 p.m. Wednesday CDT). By Wednesday evening they had still not been handed over to the British Embassy in Tehran and the embassy said it was not clear where they would spend the night. Britain's ambassador met with the sailors and confirmed they were in good health, Britain's Foreign Office said.
Iranian chief negotiator Ali Larijani had gone on British TV on Monday and signaled that Tehran was looking for a diplomatic solution.
British officials were told to pay close attention to Ahmadinejad's press conference but were unsure the release would come until they heard his words, The Independent newspaper said.
Ahmadinejad timed the announcement so as to make a dramatic splash, springing it halfway through a two-hour news conference.
The president first gave a medal of honor to the commander of the Iranian coast guards who captured the Britons, and admonished London for sending a mother, Leading Seaman Faye Turney, on such a dangerous mission in the Persian Gulf.
He said the British government was "not brave enough" to admit the crew had been in Iranian waters when it was captured.
Ahmadinejad then declared that even though Iran had the right to put the Britons on trial, he had "pardoned" them to mark the March 30 birthday of the Prophet Muhammad and the coming Easter holiday.
"This pardon is a gift to the British people," he said.
Copyright 2018 The Associated Press. All rights reserved. This material may not be published, broadcast, rewritten or redistributed. We strive to uphold our values for every story published.