Blaine Kaehr and Alex Brainard disagreed on two separate out calls Wednesday during the middle of their No. 3 singles tennis match.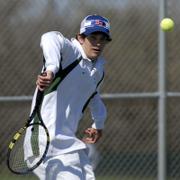 Then words were exchanged throughout the rest of the match. Kaehr hit net on a serve, and Brainard mockingly called it out. Coaches from both teams were called out to officiate. And when the match was finished, Brainard refused to shake Kaehr's hand and told him, "I hope you don't win all your matches like that."
Kaehr, a Lawrence Free State sophomore, has won all his matches this year - he's 5-0 in singles and 1-0 in doubles - and beat Shawnee Mission South's Brainard, 8-0.
"I clearly was the better player in that situation and more mentally strong than he was," Kaehr said. "I had no problem with it because I knew I had done nothing wrong, and he was just being a poor sport."
Kaehr returned from a bruised knee injury in Tuesday's quadrangular to help his team defeat Shawnee Mission South, 6-3. The Raiders had beaten the Firebirds, 5-4, for three straight years, and Free State coach Jon Renberger reminded his players of that fact before Wednesday's dual.
It was a day of redemption for the Firebirds and several of their players, including the injured Kaehr and top singles player Charlie Moffet. Moffet lost all three of his singles matches Tuesday and bounced back with an 8-1 singles victory against Devin Turner.
"I'd say I was more focused today and wanting it more because yesterday wasn't a very good day," Moffet said. "I was going for more shots and playing smarter."
Moffet also returned to doubles action, where he and his partner Jack Hull are a perfect 3-0 on the season. They dusted off the cobwebs after not playing any doubles matches for over a week. Moffet and Hull trailed 2-1 early against Turner and Brainard, but they controlled the rest of the match and won 8-4, improving their record to 4-0.
"When it was 2-1, they were probably thinking 'we can win this' and then we tied it up 2-2, and then went ahead 3-2," Hull said. "After that we knew we had it if we just kept playing our game."
Kaehr and Patrick Spurgeon also won their doubles match. They were tied 7-all with Nick Stoll and Jon Stoll and the match went to a tiebreaker, which Kaehr and Spurgeon won 7-4.
"Obviously winning the close matches, being able to grit out the final few points in the final game when things are tight, that's impressive," Renberger said. "We let some of those slip away yesterday, and today we didn't."
Kaehr and Spurgeon were not the only Firebirds to win a close match. Cameron Casady had Jon Stoll trailing 7-4 and then let Stoll back into the match by dropping two straight games. After a meeting with Renberger before the 12th game, Casady closed the match on his service and won 8-6. Without the two close victories, Renberger could have been talking about four straight years of 5-to-4 losses. But his players wanted redemption from Tuesday.
"We were a bit sluggish yesterday," Renberger said. "I thought we played a lot more aggressive and under control today and demonstrated more of what we're capable of."
The Firebirds shouldn't need any extra motivation the next time they take the court. Free State will travel to Lawrence High on Monday for a dual with its crosstown rival.
Copyright 2018 The Lawrence Journal-World. All rights reserved. This material may not be published, broadcast, rewritten or redistributed. We strive to uphold our values for every story published.