Munda, Solomon Islands — Diarrhea has broken out among children huddled in camps of tsunami survivors in the Solomon Islands, a Red Cross official said Wednesday - the first worrying sign that thousands of people who lost their homes in the waves may be at risk of disease.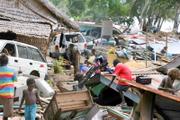 International aid was slow to trickle in to survivors, particularly in the hardest-hit town of Gizo in the western Solomons. At least 2,000 people spent a third unsheltered night on a hillside near Gizo following Monday's earthquake and ocean surge.
A New Zealand military transport plane unloaded an aid package of tarps, water and food rations in the town of Munda late Tuesday, following a shipment of similar supplies delivered earlier by a police patrol boat. Six doctors and 15 nurses reached Gizo on Wednesday.
An Australian air force transport plane left Sydney before dawn today loaded with humanitarian relief supplies bound for the Solomons, a Defense Department official said.
On Wednesday, a supply boat left the capital of Honiara for the 10-hour journey to Gizo, but two others were delayed because provisions could not be found in the capital to fill them, chief government spokesman Alfred Maesulia said.
Frustrations were starting to show among survivors, many of whom fled the tsunami with whatever supplies they could carry.
"There's no water to wash, no water to drink," said Esther Zekele, who fled the tsunami waves with her husband and five children. The single sack of rice they brought to higher ground was half-empty, and no aid officials had come to their makeshift camp.
"We are just waiting, wondering why they haven't come," she said.
Getting aid to destroyed villages further afield could take at least two more days because of damaged roads, airstrips and wharves.
At least 28 people were killed when waves up to 16 feet high smashed into the western Solomons following a magnitude-8.1 undersea quake. No significant tsunami waves were reported anywhere outside the impoverished islands, located northeast of Australia in the South Pacific.
Red Cross official Nancy Jolo said the risk of disease was rising in the largest refugee camp located near Gizo.
"What we are experiencing right now in some of the campsites is children starting to experience diarrhea," Jolo told Australian Broadcasting Corp. radio.
Fred Fakarii, chairman of the National Disaster Management Council, said medical staff in Gizo had been overwhelmed by injuries and feared diseases such as diarrhea, cholera and malaria could break out because of the unhygienic conditions and lack of clean water and fresh food.
Copyright 2018 The Associated Press. All rights reserved. This material may not be published, broadcast, rewritten or redistributed. We strive to uphold our values for every story published.