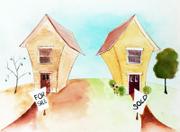 Have you noticed that spring seems to be the time that an onslaught of homes come on the market? "For sale" signs have been rivaling political signs as yard art in recent weeks.
Whether you're a voyeur who loves to get a glimpse inside other people's homes or a serious buyer, your weekend calendar soon could be crammed full of open houses. I, for one, tend to judge a book by its cover and assume that if the curb appeal is nonexistent then the rest of the home is probably equally as mundane.
Curb appeal goes far beyond the simple attributes of a home. It's a theme that's woven throughout a property and combines into one cohesive visual presentation. If the landscape is riddled with dog poop and overgrown shrubs scraping the home's siding, one might assume the inside of the property is in equal disarray - not even bothering to view its cathedral ceilings or remodeled kitchen.
If you want to get people excited about the prospect of your home becoming their home, get a little curb appeal. Even if a home is not for sale, putting your best foot forward and creating a welcoming landscape will go a long way with the neighbors.
First impressions are especially important in the age of Internet real estate listings, says Bryan Hedges, president and broker for Realty Executives in Lawrence.
"Currently, 80 percent of home buyers start their home search online. They narrow their search down by viewing the photos and virtual tours of homes in their price range," he says. "So curb appeal is more important than ever, particularly on the day the photos are taken. Buyers use these first impressions to eliminate homes from their list."
And now's the time to be on top of your home's appearance because spring is the hottest selling season, Hedges notes, adding that sales have peaked each April for at least the last five years. May and June are the other two best months.
"I believe that better weather, greener lawns, blooming flowers, leafing trees, more positive spring attitudes, daylight saving time and the anticipation of kids getting out of school for the summer all contribute to these spring months being the most popular time to make an offer for a home," Hedges says.
Not only will alluring curb appeal leave a buyer wanting more, but a stellar yard also can greatly improve your selling price.
"If a home doesn't have great landscaping and curb appeal, buyers usually discount the value of the home in their minds more than it would actually cost to make those improvements," Hedges says." Thus, homes without curb appeal often get no offers or low offers. A seller will generally get their money back and then some by investing in landscaping to enhance the curb appeal of their home."
OK, so what should you do to improve how others view your home? First walk across the street and look at the property. Ask your self the following questions:
¢ What is the first impression?
¢ What are the best features of the home, and how can I enhance them?
¢ What are the worst features of the home, and how can I minimize or improve them?
With a pen and paper in hand, make a list as you circle the home of ways to put your best foot forward. Hedges says to shoot for the following:
¢ A clean, nicely trimmed, green lawn.
¢ Neatly trimmed trees and bushes.
¢ Fresh mulch around flower beds and trees.
¢ Colorful, well-thought-out flowers along the front and other walkways
¢ Trim trees and bushes so they're not touching the home's siding or windows.
¢ Make sure no dirt or mulch touches the siding, making an easily accessible entry for termites.
¢ Make sure the lawn is graded away from the home so it's clear that water drains naturally away from the foundation.
¢ Sod or reseed bare spots in the lawn.
¢ Plant new colorful flora that are durable and easy to maintain.
¢ Don't plant so much that buyers might feel as though they couldn't manage the garden.
¢ River rock can be a nice touch in spots to add color in beds and along walkways.
¢ Clear out debris and clutter, and stow away garbage cans, garden tools and children's toys.
¢ Reclaim areas that have given way to wild vegetation.
¢ Weed.
¢ Polish and shine windows and door knobs; try pressure washing porches, decks and patios.
¢ Spruce up the furniture on the front porch and add some colorful, potted annuals.
¢ Scoop poop.
You might also perform the curb appeal exercise at dusk. A quick way to improve the outdoor appearance of a home is through lighting, which can be used to highlight standout landscape elements and architectural features, as well as brighten a walkway.
Hedges says his agents have had many contract negotiations on homes worth several hundred thousand dollars come down to landscaping and yard art.
"Sellers need to be very clear on their disclosures if they intend on taking a sentimental tree or digging up heirloom flora," he says. "The same goes for yard art. We sold one home a few years ago in which the seller had used all of his old bowling balls and shop tools to make yard art. The buyers assumed that he was taking that all with him. The seller 'kindly' left it all at the home for the buyer to 'enjoy.'"
While beauty is in the eye of the beholder, extending a little TLC to your home's curb appeal can resonate with onlookers and make you the envy of the neighborhood - all while possibly padding your pocket book.
Copyright 2018 The Lawrence Journal-World. All rights reserved. This material may not be published, broadcast, rewritten or redistributed. We strive to uphold our values for every story published.