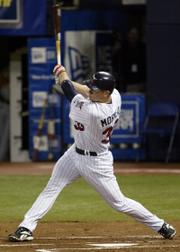 Minneapolis — The Minnesota Twins have shown the Baltimore Orioles a well-rounded offense. First it was power, then the "piranhas."
Jason Bartlett's broken-bat single drove in the go-ahead run in the seventh inning, and the Twins ran past Daniel Cabrera to beat the Orioles, 3-2, on Tuesday.
"We love it. We hit the long ball last night, and tonight we're stealing bases and hitting balls in the infield. It's great. We play the game," said starting pitcher Boof Bonser, who left with the score tied after six innings.
After back-to-back home runs by Justin Morneau and Torii Hunter highlighted a 7-4 win in the opener, Minnesota played an extra-speedy version of small ball against Cabrera (0-1).
Rondell White walked to start the seventh, and pinch-runner Jason Tyner stole second after stumbling into the base barely to beat a way-wide throw by catcher Alberto Castillo.
Tyner then came home on the blooper by Bartlett, one of the scrappy contact hitters who frustrated Chicago White Sox manager Ozzie Guillen so much last year he nicknamed them the "piranhas" - after the pesky, exotic fish featuring dangerously sharp teeth.
"It's just a good team," Tyner said. "We can hit for power. We can manufacture runs."
Pat Neshek (1-0) pitched a scoreless seventh for the victory, and Joe Nathan earned his second save after three relievers worked out of a two-on jam in the eighth.
Bonser endured a rough stretch with two outs in the third, when Melvin Mora homered, Nick Markakis doubled, Miguel Tejada walked, and Aubrey Huff hit an RBI single to make it 2-0.
Though he walked three and threw only 59 of his 100 pitches for strikes, Bonser retired 10 of the last 11 batters he faced and struck out six. He gave up three hits and two runs, making manager Ron Gardenhire proud of the way he kept his composure through a difficult inning.
Angels 8, Rangers 3
Anaheim, Calif. - Vladimir Guerrero hit a solo home run and a pair of RBI singles to lead Los Angeles. Guerrero went 4-for-4 and was walked intentionally with a runner on second and two outs in the sixth inning.
In 56 career games against the Rangers, he is hitting .442, with 21 home runs, 49 RBIs and 49 runs. He had an RBI double in their 4-1 victory over Texas in the season opener a night earlier.
Mariners 8, Athletics 4
Seattle - Richie Sexson hit his second homer in two games, and Yuniesky Betancourt's tiebreaking, two-run shot off Kiko Calero in the seventh inning led Seattle past Oakland.
At 2-0, the Mariners are off to their best start since Ken Griffey Jr. and Randy Johnson were stars on the 1996 team.
The Mariners, who have finished last in the AL West for three consecutive years, now have won as many games in two days against the defending division champions as they did in 19 tries last season.
Copyright 2018 The Associated Press. All rights reserved. This material may not be published, broadcast, rewritten or redistributed. We strive to uphold our values for every story published.