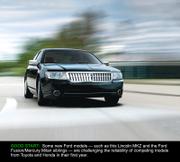 Each year, Consumer Reports asks its subscribers to report on the serious problems they experienced with their vehicles during the preceding 12 months. And each year, CR uses their responses to predict the reliability of new cars, and assess the reliability of older models.
For the 2006 edition of the Annual Car Reliability Survey, CR received reports on more than 1.3 million vehicles. That's about a 30 percent increase over the number reported in 2005. The survey covered cars spanning model years 1997 to 2006 and sought information on problems in 16 "trouble spots," including engine, transmission, fuel and electrical systems, brakes, body integrity and - new for 2006 - audio systems. This most recent survey encompassed 2,200 models across the 10 years.
What's new in used cars
Here's a little of what the survey revealed about older cars:
¢ Some 9- and 10-year-old vehicles have aged gracefully and have fewer problems than much newer models. For example, the 1998 Lexus LS400 had slightly fewer problems than the 2006 Mercedes-Benz ML500. That may not be all that surprising because the Lexus LS tops the survey, year in and year out.
¢ On average, the biggest increase in problem rates is between 5- and 6-year-old cars, which is when many owners begin thinking about selling their car. There's less of a difference in reliability among 8- to 10-year-old models.
¢ Toyotas and Hondas hold up the best. An average 10-year-old from those automakers had the same number - or fewer - problems than a 4- to 5-year-old from Hyundai, the domestic automakers or Volkswagen.
¢ When comparing cars by nationality, one trend stands out: The Japanese and South Koreans continue to make the most reliable cars, with 11 problems per 100 vehicles, on average. U.S. automakers follow, with 16 problems per 100, while European manufacturers lag, with 19 problems per 100.
A used car earns the designation CR Good Bet by having performed well in CR's road tests (when new) and by racking up several years of better-than-average reliability, according to the survey respondents. This year's list is composed of mostly Japanese models, with a smattering of American nameplates (Buick Regal, Chevrolet Prizm, Lincoln Town Car and Pontiac Vibe). This year's list of CR Bad Bets - used cars whose reliability has proved much worse than average - consists of mostly American and European models, with just a few Asian makes (Infiniti QX56, the 2002-2005 Kia Sedona and Nissan's Armada SUV and Titan pickup).
A promising future
CR can predict the reliability of some 2007 cars by looking at the three most recent years' data for models whose design hasn't changed this year. (If the model was new or redesigned in 2005 or 2006, a year or two of data might be enough for a prediction.) Sometimes CR can make a prediction for a redesigned or new car if the model or the manufacturer has an outstanding history.
Of the 43 current-year models that made the Most Reliable list, 36 were from Japanese manufacturers, six came from domestic automakers and one came from South Korea. Toyota took top honors, placing 21 vehicles on the list. Honda was next with 10 vehicles, Ford and GM each had three, and Subaru and Nissan had two apiece.
Among new American models, the Lincoln Zephyr (now called the MKZ) had a sterling first year in reliability. Its platform mates - the Ford Fusion and Mercury Milan - also did well. Some new or redesigned models from GM - the Buick Lucerne, Cadillac DTS and Chevrolet Tahoe - were very reliable. This is promising and gives the consumer more choices than ever in finding reliable new vehicles.
Copyright 2017 The Lawrence Journal-World. All rights reserved. This material may not be published, broadcast, rewritten or redistributed. We strive to uphold our values for every story published.