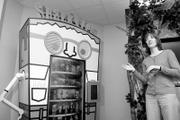 COLUMBIA, MO — Imagine a trip to the vending machine for an afternoon caffeine jolt.
You survey the offerings, pick a soda, and suddenly out booms the deep voice of a man, chiding you for wanting to "smother your blood in a sack of sugar and a barrel of caffeine."
Shaken, but thirsty, you decide on skim milk instead.
After pushing the button on the machine, the little milk bottle floats toward you and in a strung-out surfer's voice utters: "Duuuude, skim milk is so a gnarly milk choice because you load up on all that calcium, bro, without the fat."
If all vending machines were like the virtual vending machine under development for the YouZeum, society likely would make healthier food choices - or just quit using vending machines.
YouZeum
The computerized vending machine mock-up and other high-tech exhibits for the one-of-a-kind health science center are in the works at the strategic technologies department of the University of Missouri-Columbia. The YouZeum (think museum) aims to use this and other exhibits to improve personal, family and community health through interactive education.
The virtual vending machine features a huge screen displaying animated food choices. Each displayed food item is represented by a different recorded voice, and the narrator is Hollywood voice actor Don "The Voice" LaFontaine.
The computer is housed in a playful vending machine-like casing labeled the "Snackster."
"We tried to add humor along with the information to make it fun," said Gwen Robbins, YouZeum executive director.
Medical technology
The strategic technologies office in the basement of a building on LeMone Industrial Boulevard provides computer help and software for the MU School of Medicine. Director Ali Hussam said the YouZeum exhibits are right up his alley.
"It's similar (to other work) because we do a lot of medical simulations," Hussam said. "So our strength really comes not because we develop museums. This is more of a medical application. That's why it fits."
The computerized YouZeum exhibits are scattered around Hussam's office in various stages of development. Nearly finished is an exhibit where people can take a virtual bike ride down Columbia's Hinkson Creek Trail. YouZeum visitors will ride a stationary bike in front of a large computer screen. As they pedal, they will virtually move along the trail, swerving to avoid digital pedestrians. Riders can even take their bikes off the trail, dodging trees and splashing down into the virtual Hinkson. When it's installed in the museum, multiple riders will even be able to race.
"I'm working on whenever you do a race, there'll be a crowd of people cheering you on," said Joel Haus, software developer. "So it's still a little bit of a work in progress."
Other exhibits in the works incorporate dodging virtual acorns thrown by cartoon squirrels, flying a nutrient-powered spaceship into a human body to defend cells and playing computerized brain-response games modeled after actual tests that doctors use on patients to measure brain function.
Not just for kids
Many of the games are goofy and play much like traditional video games.
But they come packaged with messages that YouZeum leaders hope will encourage visitors to exercise, eat nutritious foods, take care of their brains and make healthy life choices.
"That's why this becomes fun," said Wendy Knorr of Knorr Marketing Communications, which represents the YouZeum. "You're learning, but you don't realize how much you're learning, so to speak, because you're just playing a game."
Robbins said construction at the YouZeum site, the former Federal Building at 608 Cherry St., is on schedule, and the building should be done this summer. Construction crews already are painting some walls on the museum's main floor, and the general layout of walkways and rooms has taken shape.
When the building is complete, the next challenge will be to install and test all the exhibits in time for a planned opening this fall.
One of the advantages of the computerized exhibits is that they can be reprogrammed to include fresh content, Robbins said.
While having many exhibits focused on video games and cartoons might sound like child's play, Robbins said the YouZeum will have displays aimed at people of all ages.
"The myth is that it's for kids, but really, it will be for everyone," she said.
Copyright 2018 The Lawrence Journal-World. All rights reserved. This material may not be published, broadcast, rewritten or redistributed. We strive to uphold our values for every story published.