No Kansas University softball player will be happier to see Nebraska come to town today than Val Chapple.
"Nebraska always gives us a good game," Chapple said, "and one of my best friends is on the team. So I'm anxious, yeah."
Chapple, a sophomore third baseman, was referring to Nebraska freshman Alex Hupp. Chapple and Hupp were members of Olathe East's Class 6A state championship teams in 2004 and 2005.
Chapple had three hits, scored twice and drove in a run as KU divided a doubleheader against Arkansas on Tuesday at Arrocha Ballpark.
"She's been hitting the ball hard for the last several weeks," KU coach Tracy Bunge said of Chapple. "Even when she's making outs, she's hitting the ball hard."
Kansas won the first game, 4-2, as Valerie George scattered five hits over five innings and won her ninth straight decision. In the second game, Katy Henry went the route, giving just four hits in the Razorbacks' 6-1 triumph.
Although outhit, 7-5, in the first game, the Jayhawks took advantage of a pair of Arkansas errors. Chapple had two of the five hits and scored a pair of runs.
In the second game, sixth-inning doubles by Dougie McCaulley and Chapple accounted for the only run off Henry, a junior right-hander who fanned 10 Jayhawks.
The Razorbacks (16-31) struck quickly in the second game. Whitney Cloer slammed a two-run homer off Kassie Humphreys in the first inning, then Hillary Freeman hit a three-run homer off Humphreys in the second.
Photo Gallery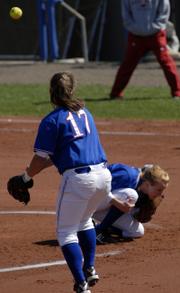 KU softball vs. Arkansas
Humphreys, a senior right-hander and the staff leader with 12 wins, also struggled against Baylor last weekend, but Bunge stressed she isn't concerned.
"Kassie will bounce back," Bunge said. "It's frustrating, but she'll bounce back."
Kansas also committed four errors in the second game, two by shortstop Stevie Crisosto.
"I could spew 10 things we didn't do well," Bunge said about the nightcap, "but I'm not going to. We just weren't very good in any part of the game."
Freshman right-hander Sara Vertelka was solid, however, allowing four hits and an unearned run in 52â3 innings of relief.
KU played without regular Amanda Jobe in the second game. Jobe, a freshman
outfielder-first baseman, was held out as a precautionary move after fouling a pitch off her right foot in the opener.
"It's not a long-term thing," Bunge said. "We'll see how well she runs tomorrow. It'll be a game-time decision."
Kansas and Nebraska will take similar records into today's 3 p.m. clash at Arrocha. Kansas is 26-11-1 overall and 2-2 in the Big 12. Nebraska is 25-11 and 2-2.
Copyright 2018 The Lawrence Journal-World. All rights reserved. This material may not be published, broadcast, rewritten or redistributed. We strive to uphold our values for every story published.