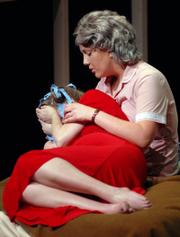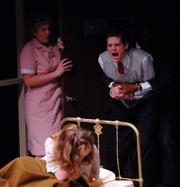 This week a group of Kansas University students will show how the rigid lines surrounding the topic of abortion can be blurred a bit.
In University Theatre's production of Jane Martin's drama "Keely and Du," an anti-abortion group called Operation Retrieval, headed by Walter and Du, hold Keely captive when she seeks an abortion.
"It's really a good learning experience about this topic that is so insoluble between people. It really can't be one way or another," says Jenna Bleecker, a Mankato junior who plays the role of Du.
Keely decides to terminate her pregnancy after her abusive ex-husband, Cole, rapes her. Cole is a violent person, and Keely fears for her own safety and that of her unborn baby. She also must take care of her paralyzed father and doesn't believe she could handle the added responsibility of raising a child.
"It's not biased. (The play) does a good job of showing both sides," says Tosin Morohunfola, a Leawood freshman who plays Walter.
Walter and Du capture Keely with the intent of keeping her locked in their basement - with proper medical care - until the end of her pregnancy. Their organization believes that abortion is fundamentally wrong and goes to great lengths to make sure women keep their babies or give them up for adoption.
"In order to move forward with their idea of pro-life, they have to take away the civil rights of this individual," Morohunfola says.
As Du takes care of Keely, the two develop an unexpected bond. Du has three sons but lost her only daughter when she was a just a baby.
"(Keely) almost replaces the daughter she wishes she had," says director Katrina Bondari, a doctoral student in theater studies.
Du comes to realize that Keely's decision is not easy and that abortion is not such a black-and-white issue, Bondari says.
Dramaturge Brady Blevins helped cast members prepare for their roles by presenting testimonials from women who have had abortions or been faced with the decision to choose. He also looked into abortion policies and laws, as well as pro-life groups similar to Operation Retrieval. Bleecker accompanied Blevins to Planned Parenthood to discuss the process of abortion and the emotional and physical stress associated with the procedure.
"I'm interested to see how the audience members perceive abortion afterward," Bleecker says.
She prepared a worksheet for cast members, asking them how they felt about the issues addressed in the play. The cast filled out the worksheets as individuals and in character. Similarly, before patrons enter the theater, a display in the lobby will ask them to question their own beliefs about abortion.
Blevins hopes the audience will take the exercise seriously, examining their views and asking, "What do I really think about this?"
Copyright 2018 The Lawrence Journal-World. All rights reserved. This material may not be published, broadcast, rewritten or redistributed. We strive to uphold our values for every story published.