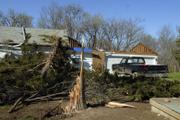 A tornado that struck southwestern Douglas County on Friday night went undetected by the National Weather Service and by Douglas County Emergency Management.
No one appeared to know that a weak tornado had touched down until Adam Peterson returned home early Saturday morning to find his home severely damaged.
His father, Andy Peterson, who owns the home about six miles southwest of Clinton Lake, arrived Saturday morning to find parts of the roof destroyed, trees snapped in two and siding damaged on the one-story house.
One tree fell on top of the house.
"I didn't think it was good," Andy Peterson said. "We're just glad no one is hurt and I've got my house so (Adam) had a roof over his head."
Oddly enough, a tornado warning was in effect for another part of Douglas County - the extreme northwestern portion - at the time the tornado hit around 10:39 p.m. Friday.
Jennifer Stark, warning coordination meteorologist for the National Weather Service, said sometimes small tornadoes emerge unpredictably from a line of thunderstorms.
She added that a tornado watch covered the area Friday night where the tornado touched down.
"The environment was supportive of the potential for weak tornadoes," Stark said.
Stark estimated from the damage to Peterson's home that wind speeds produced by the tornado hovered around 80 mph.
She said the National Weather Service hadn't known about the tornado until Douglas County Emergency Management informed the service of it.
Douglas County Emergency Management hadn't known about the tornado until Saturday evening.
"It was a good almost 24 hours before they notified dispatch for a property check," said Teri Smith, acting director of Douglas County Emergency Management.
Andy Peterson said an insurance adjuster hadn't made a damage estimate yet and that the family would begin this weekend to try salvaging the house.
"We're going to try," he said. "The main part of the house is an old one-room school, and it's like three-foot solid rock. ... So we're going to try and save it if we can."
No other significant damage was reported in the area. The tornado, which was about 30 yards wide, touched down for about two miles moving north before it petered out, according to the National Weather Service.
Copyright 2018 The Lawrence Journal-World. All rights reserved. This material may not be published, broadcast, rewritten or redistributed. We strive to uphold our values for every story published.