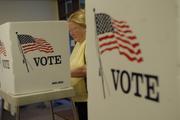 -->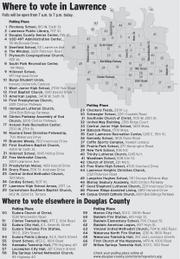 Turnout, as expected, was light during the early hours of voting for Lawrence City Commission and Lawrence School Board.
"No real issues this morning," said Keith Campbell, who supervises Douglas County elections.
He added that a precinct supervising judge ran her car off the road during the early morning rain, but made it out of the ditch in time to get the poll open by 7.
"She's feisty," Campbell said.
At Trinity Lutheran Church in East Lawrence, 40 voters had cast ballots by 9 a.m. today. That put the precinct on pace to achieve 10 percent turnout for the day - which, given low turnout expectations, was being treated as a bit of an achievement.
"We are very pleased with the turnout so far," said Mary Alexander, a poll worker.
Kristen Blosser, a Kansas University student from Lawrence, was among the East Lawrence voters.
"Definitely Wal-Mart and the South Lawrence Trafficway route," she said, when asked what issues brought her to the polls. "I think environmental issues are really important to me, and support for the East Lawrence neighborhood."
Turnout was better in the western reaches of town. By 8 a.m., poll workers at Mustard Seed Christian Fellowship said 72 people had voted during an early morning rush.
At 11:10 a.m., 94 voters had cast their ballots at Central Junior High School, 1400 Mass., which is about 10.5 percent of the precinct's 892 registered voters. The storm that moved through Lawrence this morning dampened early turnout, poll worker Ruth Turney said.
Khabira Gruber, Lawrence, said candidates' views on growth were among the issues that drove her decisions in the City Commission race.
"I voted based on issues about neighborhoods and issues about growth, minimum wage, the whole list of things," Gruber said. "I like what Schauner and Highberger have done."
In the 20th precinct, at First Southern Baptist Church, 4300 W. Sixth St., poll workers were frustrated by the relatively low turnout as of 10:30 a.m.
After 3 1/2 hours of open polls, the workers had collected all of 111 ballots - out of 1,720 registered voters.
"That's pitiful," said Karen Keim, supervising judge, who has been working at the precinct for a decade. "That's not a good percentage. A good percentage would be 50 percent."
But not likely, even with Douglas County Clerk Jamie Shew hoping for 25 percent turnout, Shew's staff sent Keim and her two fellow workers 950 ballots - or enough to handle a little more than 50 percent of the precinct's registered voters, including some who already had voted either in advance or by absentee ballot.
Among the relative few to stop by the precinct Tuesday morning was Marvin Groh, a retired educator who made it to the polls because he "always votes," not because any particular issue had caught his 80-year-old eyes this year.
"I'm a senior citizen - taxes are tough for us, when they keep going up," he said. "But I don't know what you can do about it."
He said that campaign issues often raised by Lawrence City Commission candidates Mike Dever and Rob Chestnut - about broadening the city's tax base by attracting new businesses and creating new jobs - were important to him, but declined to disclose who he voted for.
As for the Lawrence school board, Groh knew who he needed to vote for.
"I just asked my wife," said Groh, whose wife, Lois Groh, taught for 42 years at Lawrence High School. "She know about all that."
By noon, though, only 50 people had voted at New York School. And at 12:30 p.m. only 61 of the 1,064 registered voters in the 38th precinct had stopped to vote at Prairie Park School.
Election judge Doris Stubeck thought the morning's rainy weather might have slowed the early turnout.
"We do have a lot of retired clientele in this neighborhood, so maybe it will pick up later," she said.
At 2 p.m., 140 of the 891 registered voters had cast ballots at Central Junior High.
"It's much, much better than what the primary was," said Bonnie Bond, polling site clerk. "By this time at the primary, we didn't even have 100."
At mid-afternoon Tuesday, Douglas County Clerk Jamie Shew sent an e-mail to local reporters, reporting "light-to-moderate turnout."
"One precinct may be having a light turnout and the precinct next door will be having a larger turnout," Shew wrote. "I think the morning deluge of rain had an impact on the early morning rush, which may mean that the afternoon rush will be larger."
Voter turnout was hit-and-miss this afternoon, according to information gathered from precincts checked by the Journal-World.
For example, at Pioneer Ridge Assisted Living, 4851 Harvard Drive, there were about a half-dozen people standing in line to vote at 3 p.m.
Poll workers there had served 270 voters, or 21 percent of the total number of voters in the precinct. Voter turnout also was high at nearby Brandon Woods, 1501 Inverness Drive. At 2:50 p.m., 306 voters had turned in ballots. That was a turnout of nearly 22 percent.
Several voters on the west side of town said they were being driven to the polls by economic development-related issues.
"I'm looking to get a little bit more business into City Hall," said Glen Davis, who voted at Holcom Recreation Center, 2700 W. 27th Street. At 2:25 p.m., voter turnout was 16 percent - or 134 voters - at Holcom.
Some said they were looking for a change in attitude.
"They waste so much money on consultant fees, and then they don't get the answers they want, so they just ignore them," said Shelley Ezell, who voted at Pioneer Ridge.
At several precincts on the east side of town, voter turnout was lower. At 2 p.m., the precinct at Haskell Indian Nations University, near 23rd and Barker, had 4 percent turnout - or 73 voters.
At 1:30 p.m. at Kennedy Elementary, 1605 Davis Road, turnout was 4.3 percent - or 74 voters - at 1:45 p.m. At 1:30 p.m. at the East Lawrence Recreation Center, there had been 83 voters - or a turnout of 7.5 percent. Central Junior High was one of the busier locations west of Iowa Street with 15.7 percent turnout - or 140 voters - at 2 p.m.
Several East Lawrence voters said they were concerned about preserving the older parts of the community.
"I would like to see people who pay more attention to downtown and quit giving all the money to big box stores," said Terri Wilson, who voted at New York Elementary School, 936 N.Y. The New York precinct had tallied 67 votes - or 7 percent - at 1:20 p.m.
Several voters said they were making decision with less information than they would like.
"I don't know that I heard enough from any of them to really know where they stand on the issues," said Michael Reid, who voted at the Clinton Parkway Assembly of God, 3200 Clinton Parkway. At 2:35 p.m., the Clinton Parkway location had 153 voters - or 12.9 percent.
Polls are open until 7 p.m. today.
More election news throughout the day.
City commission race 2007
City commission race
Copyright 2017 The Lawrence Journal-World. All rights reserved. This material may not be published, broadcast, rewritten or redistributed. We strive to uphold our values for every story published.