Cleveland — Rutgers has made the most of second chances this season, especially in the NCAA women's basketball tournament.
During the Scarlet Knights' run, they have avenged a lopsided loss to Duke, a loss to DePaul and two one-sided setbacks to Connecticut. Now Rutgers (27-8) goes into tonight's championship game against a Tennessee squad (33-3) that ended its title hopes in the same Quicken Loans Arena a year ago in the Sweet 16.
"Coach (C. Vivian) Stringer keeps saying we're a team of destiny," sophomore forward Heather Zurich said Monday. "Everything we're noticing, we're like, 'Oh my God, this is just meant to be.'"
Rutgers' journey from a 2-4 start to tonight's title game has become the talk of the campus, especially after Sunday night's 59-35 triumph over Louisiana State.
Football coach Greg Schiano, men's basketball coach Fred Hill and Gov. Corzine are leading the delegation of Rutgers fans in Cleveland, although it also should be noted Tennessee men's basketball coach Bruce Pearl is with the Volunteers' contingent.
In Sunday's victory, Rutgers succeeded because of the way the Scarlet Knights' two 6-foot-4 centers - Kia Vaughn and freshman reserve Rashidat Juniad- were able to deny junior all-American Sylvia Fowles the ball. The 6-6 star was held to just five points.
To beat Tennessee tonight, however, the Scarlet Knights must figure out a way to contain 6-4 sophomore Candace Parker, the top player in the collegiate game, who can play every position.
"She can basically do everything," said junior guard Matee Ajavon, who lit up LSU in the first half Sunday with four three-pointers on four shots. "We're going to have to adjust a couple of things, and we're definitely going to have to change up our game plan from any other team because she is so versatile.
"You can't even really focus on Candace Parker. She has a complete team around her."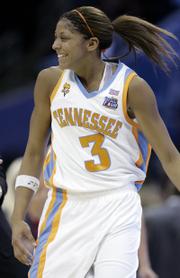 Tennessee advanced with a 56-50 victory over North Carolina as the Vols rallied from a 12-point deficit with 8 minutes, 18 seconds left and went on a 20-2 run down the stretch.
Parker had 14 points and 13 rebounds, even though she only played eight minutes of the first half because of foul trouble.
"I got to see briefly on the highlights of the LSU game, how they collapsed on Sylvia Fowles and really wanted to make other people beat them," Parker said of Rutgers.
"We played one of the toughest schedules in the country and we have seen a lot of different looks."
North Carolina had 29 turnovers in the loss, but Rutgers has more ballhandlers and has not been sloppy with Essence Carson, Ajavon, Zurich and Epiphanny Prince controlling the flow.
Prince and Tennessee guard Shannon Bobbitt, incidentally, were high school teammates in New York.
"It's going to be a team effort," Carson said of defending Parker. "Right now, this is how we got here: playing as a team. And we'll leave this tournament playing as a team. We can't abandon something that has gotten us this far. To do that would make a fool of us."
Carson also conceded Tennessee's size advantage. "I wish we had their size - it would make our jobs easier - but we're not going to grow six inches overnight."
Tennessee forward Sidney Spencer is 6-3, and the Vols also have 6-4 Nicky Anosike off the bench.
It might help Rutgers if Tennessee repeats its Sunday shooting slump. The Vols were 17 of 63 from the field against the Tar Heels.
Copyright 2017 The Lawrence Journal-World. All rights reserved. This material may not be published, broadcast, rewritten or redistributed. We strive to uphold our values for every story published.