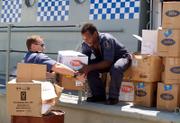 HONIARA, Solomon Islands — Survivors picked through ruined stores today looking for drinking water and food in a Solomon Islands town devastated by a tsunami, as an international relief effort made tentative first steps.
Thousands of people in the town of Gizo in the South Pacific country's far west spent Monday night sleeping under tarpaulins or the stars on a hill behind the town following a massive undersea earthquake that sent tsunami waves crashing through the town.
The tsunami was triggered by a magnitude 8.0 quake that struck shortly after 7:39 a.m. Monday (3:39 p.m. Sunday CDT) six miles beneath the sea floor, about 25 miles from the western island of Gizo and 215 miles northwest of the Solomons' capital, Honiara, the U.S. Geological Survey said.
At least 20 people were killed in the Solomons and neighboring Papua New Guinea, and officials said the toll was likely rise further today as a detailed aerial assessment was made of Gizo and surrounding villages where only scattered radio reports have been collected so far.
"Today will be a telling day," deputy police commissioner Peter Marshall said. "I suspect there will be further deaths to report as the day progresses, unfortunately."
National Disaster Management Office spokesman Julian Makaa told Australian Broadcasting Corp. today that 15 deaths had been confirmed in the Solomons, and an initial damage assessment was "around 916 houses, and a very rough estimate of the people affected is around 5,000 people."
ABC reported from Papua New Guinea that a family of five had been washed away in that country's far east - the first reported deaths there.
The Solomon Islands Red Cross said about 2,000 of Gizo's roughly 7,000 residents were left homeless and that about 500 houses in the town were destroyed, noting that "initial reports from other islands suggest similar or worse levels of damage."
Supplies are scarce
Alex Lokopio, premier of hardest-hit Western Province, said few of those left homeless had even basic supplies, and that their situation would turn desperate within days without help.
"There is no food available" in the main settlements of Gizo and Noro, said Alfred Maesulia, information director in Prime Minister Manasseh Sogavare's office in the capital, Honiara.
Speaking after an urgent meeting of the nation's Disaster Management Council, he told the Associated Press: "Some settlements have been completely wiped out by the waves."
Danny Kennedy, a dive shop operator, said teams from the makeshift camp had ventured into town looking for bottled water and other supplies - and found a mess.
"Unfortunately a lot of the stores, their cargo has fallen from the higher shelves and covered lower things, and the buildings are quite unstable," Kennedy told New Zealand's National Radio.
Marshall said officials would tolerate survivors taking goods they don't own until emergency supplies arrived.
"They are desperate times in Gizo," he said. "And we've got to be practical."
Supplies would start being funneled into the region today, but "it is important that we don't put everything into a location and find out we're in the wrong spot," Marshall said.
One police patrol boat carrying emergency supplies arrived in Gizo from Honiara, the capital, overnight and three private charters were due today. Australian and New Zealand military helicopters in the Solomons as part of a security force there were also expected to take part in relief operations.
Sea gave a sign
Witnesses reported a wall of water up to 16 feet high plowed into the coast five minutes after the massive earthquake, which knocked down buildings in Gizo.
Sogavare declared a national state of emergency and had meetings with his impoverished country's aid donors about getting help.
"We were lucky it happened during the daytime and the people observed that the sea receded and that that was a sign that something was not right and most people moved to higher ground," Sogavare said.
Copyright 2018 The Associated Press. All rights reserved. This material may not be published, broadcast, rewritten or redistributed. We strive to uphold our values for every story published.