Atlanta — Curses, chomped again.
The Florida Gators continued their recent feast on the Ohio State Buckeyes, mangling OSU 84-75 Monday night in the Georgia Dome to capture their second consecutive NCAA title.
Florida (35-5) snapped OSU's 22-game winning streak and became the first team to win back-to-back championships since Duke in 1991-92. The outcome provided euphoric fulfillment for juniors Al Horford, Joakim Noah and Corey Brewer, who passed up chances to be first-round picks in the NBA Draft for the rare opportunity to repeat.
Football coach Jim Tressel and his wife, Ellen, watched from the front row as Ohio State (35-4) attempted to avenge a 41-14 drubbing at the hands of Florida in the BCS National Championship Game on Jan. 8. OSU fans sang "We don't give a damn about the whole state of Florida," a takeoff on their favorite Michigan taunt. It was the first time the same two schools had played for the football and basketball titles in the same year.
The young basketball Buckeyes were also blown out by 26 points in Gainesville on Dec. 23.
Greg Oden, the 7-foot freshman All-American, played his best game of the season in what could be his last at OSU before heading to the NBA. He scored 25 points, pulled in 12 rebounds and blocked four shots in 38 minutes, avoiding foul trouble for the first time in four games.
"Coach told me after the first media timeout, 'Welcome to the second part of the first half,'" Oden said. "But this is disappointing. If I played a bad game and we won, winning is all that matters.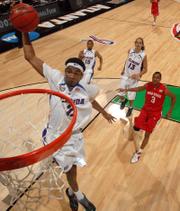 "It was the goal to get to Atlanta and play for the national championship, but we also wanted to win it, too. We accomplished all we wanted except for the top goal."
Oden refused to say anything about his future plans, saying, "Please don't ask that question."
But his Indianapolis North High School teammate Mike Conley Jr. said, "I'm 100 percent sure I'll be back" and vowed to do everything he could to convince Oden to stay.
"I'll talk to him and do all I can to get him to come back or change his mind if he's already made it up," Conley said. "I want to play with him. He wanted to put this on his resume, to win the national championship, and we fell short. That may be a key factor in helping him come back."
Copyright 2018 The Lawrence Journal-World. All rights reserved. This material may not be published, broadcast, rewritten or redistributed. We strive to uphold our values for every story published.