Fayetteville, Ark. - For 13 years, Dana Altman was content at Creighton, helping the Bluejays win 20 games season after season.
Now, Altman has finally found another job that appeals to him - coaching the Arkansas Razorbacks.
"I've had conversations with a number of schools," Altman said. "I just felt like at 48 years of age, the time was right. ... But more importantly, it was the opportunity. Arkansas has great tradition."
Altman was named the Razorbacks' new basketball coach Monday, ending their weeklong search to replace the fired Stan Heath. Altman was 260-141 at Creighton. The Nebraska school went 22-11 this season for its ninth straight 20-win season, a Missouri Valley Conference record.
Altman was introduced at a news conference in Bud Walton Arena, with athletic director Frank Broyles leading a "Pig Sooie" cheer. Altman might need some tutoring on that famous tradition - and he was quick to look back on his days at Creighton.
"You don't stay in a place 13 years, and in 72 hours change your feelings about a special place and a special group of players that I had," Altman said. "So today, although I'm very excited, has also been very tough."
Altman is 343-208 in 18 years at the Division I level. He coached at Marshall and Kansas State before going to Creighton. He has been linked to other jobs in the past - such as Illinois and Minnesota - but the Bluejays managed to keep him until now.
Altman will be charged with helping the Razorbacks reach the next level again. It's a challenge he looks forward to.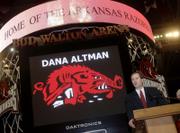 "I'm 48 years old," Altman said. "And with your permission I'd like to finish my career at the University of Arkansas."
Heath pops up at South Fla.
Tampa, Fla. - Stan Heath's stint without a job lasted one week.
The fired Arkansas basketball coach agreed Monday to a five-year contract to take over South Florida's struggling program and try to transform the Bulls into a contender in the Big East. Including incentives, the deal is worth up to $4.275 million.
Iowa hires Lickliter
Iowa City, Iowa - Iowa hired Todd Lickliter as its new coach Monday night, replacing Steve Alford with the coach who turned mid-major Butler into a NCAA Tournament regular.
Lickliter will be introduced by the university at a news conference today
Copyright 2018 The Associated Press. All rights reserved. This material may not be published, broadcast, rewritten or redistributed. We strive to uphold our values for every story published.