Photo Gallery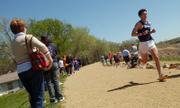 Brew to Brew race
The sky was clear, the temperature was good, and if not for a constant wind, Sunday may have been the best weather the Brew to Brew run has ever enjoyed.
More than 3,100 people took part in this year's race, said event organizer Lou Joline. The first runner came in shortly before noon, with others streaming across the finish line along the Kansas River throughout the afternoon. The Brew to Brew raises money to help fund research in the fight against cystic fibrosis.
Seven-year-old Marie Boncella ran the last leg of the 10-leg race for her team. Marie has the disease, which can affect lungs and the ability to breathe as well as the pancreas and the ability to process food.
Marie was upbeat after completing the race.
"It felt really good because people were holding out their hands and giving out high-fives," she said.
The 44-mile race was between Boulevard Brewery in Kansas City, Mo., and Free State Brewery in Lawrence. For the most part, the race was run by teams of as many as 10 people, who each did a leg of the race. After the race, participants were entitled to a meal and two beers, courtesy of Free State Brewery.
As he enjoyed the beer and postgame meal, Aaron Hall, of Baldwin City, said he had a great time running, even if he was a little nervous before the race began.
"There's no information before the race, so for first-timers, we were scared," Hall said.
Now that he's a veteran, though, Hall and his group are ready to come back and do the race again.
The biggest challenge, as it turns out, was the intense wind that had several runners complaining that they felt like they weren't making any progress.
"We did pretty good," said Josh Thomas, a KU sophomore who ran with the Navy and Marine Corps ROTC team. "This wind has been a real challenge. It's on a flat course, but at times it was like running in place."
Joline said everything with the race went well, aside from one runner who suffered a seizure shortly after the race started and was taken to Kansas University Hospital in Kansas City, Kan. No information about the man's condition was available Sunday evening.
Copyright 2018 The Lawrence Journal-World. All rights reserved. This material may not be published, broadcast, rewritten or redistributed. We strive to uphold our values for every story published.