Cleveland — Candace Parker calmly walked to the middle of the floor, extended her index finger and said the same two words almost everyone wearing Tennessee orange has been muttering for nearly a decade.
"One more," Parker said.
As in one more victory - and, just maybe, another NCAA title for the Lady Vols.
"I really feel like we owe it (to Tennessee)," the sophomore All-American said. "We owe it to ourselves."
Parker scored 14 points and made the biggest of Tennessee's record 20 steals, helping the Lady Vols overcome a 12-point deficit and beat North Carolina, 56-50, in a national semifinal on Sunday night to set up an NCAA title date with Rutgers.
Down 48-36 and on the verge of watching another splendid season end short of a seventh championship, Tennessee outscored the Tar Heels 20-2 down the stretch to earn its 12th trip to the title game.
It was sweet revenge for Tennessee, which had lost the Cleveland Regional final on the same floor one year ago to the Tar Heels (34-4).
"At the eight-minute mark, I said, 'We don't want to go home, we're not leaving here without a national championship,'" coach Pat Summitt said.
Parker, the Lady Vols' do-everything phenom, made sure this trip to Cleveland would last more than one game. Although she went just 3-for-12 from the field, she went 8-of-9 from the line, had 13 rebounds and fouled out two Tar Heels.
Tennessee's Nicky Anosike added 14 points, none bigger than her layup with 2:04 left when the Lady Vols, who trailed 48-36 with 8:18 remaining, finally caught the high-powered Tar Heels at 50-all.
North Carolina, trying to get to the championship for the second time, collapsed down the stretch, just like its men's team did last week against Georgetown.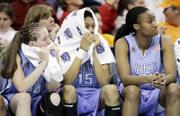 In the Tar Heels' last 15 possessions, they scored just two points, missed all eight field-goal tries and had seven turnovers.
"We've never lost to a team that shot 27 percent," coach Sylvia Hatchell said. "I feel like defensively we did the job. I'm really disappointed."
Rutgers 59, LSU 35
Cleveland - Rutgers' improbable run isn't over.
The Scarlet Knights earned their first trip to the national championship behind Hall of Fame coach C. Vivian Stringer with another unlikely scenario - dominating the LSU Lady Tigers from the opening tip.
Matee Ajavon scored 16 points, and Rutgers (27-8) hounded 6-foot-6 Sylvia Fowles. The Scarlet Knights used a swarming defense and hot touch from behind the arc to blow out LSU, which scored the fewest points ever in the Final Four.
Rutgers double- and triple-teamed Fowles, who managed just five points.
The Rutgers crowd chanted Stringer's initials "C-V-S" in the closing minutes. Stringer was hugged by her entire staff as she makes her way back to the title game 25 years after she took Cheyney there.
"Wow," Stringer said. "That's the best word to describe what happened here. We talked about believing in what we know. No one expected us to be here, but these players believe in themselves. We focused on the defense. We didn't read into the hype."
Copyright 2018 The Associated Press. All rights reserved. This material may not be published, broadcast, rewritten or redistributed. We strive to uphold our values for every story published.