Atlanta — Take it all in, because there probably won't be a repeat of this any time soon.
A Florida team full of lottery picks that won the NCAA title came back to try it again.
A 7-foot Ohio State freshman who insisted he wanted to go to college even before the NBA age rule changed has made it to the title game.
And a coach being courted by Kentucky, one of the bluest of basketball bluebloods, might just say thanks but no thanks and stay at a school where the oblong ball rules.
You don't need to wait for the music tonight to know that college basketball, beaten down in recent years by early defections to the NBA - and for a while, complete detours of campus - might have stumbled upon a shining moment.
Whether Florida and Ohio State play a classic game or the Gators are dominant in becoming only the second team since the UCLA dynasty to repeat as NCAA champion, this Final Four has shown the game hasn't lost all its allure.
Not that anybody should start the three-peat talk if Florida becomes the first team to win consecutive titles since Duke in 1991 and '92.
Corey Brewer, the swingman whose family had more need for NBA millions than any of the sons of famous athletes he plays with, had to laugh when somebody asked if there was any way they'd all come back again.
"You never know," he said, with a smile that said everyone already did. "We'll see what happens after the season."
The Gators are tired of expectations and the bulls-eyes on their backs, and most of all, of talking.
"Talk, talk, that's all we do," forward Joakim Noah said.
They've been asked about repeating for a full year.
"I wish I had a nickel for every time somebody asked me that," Brewer said agreeably. "I'd have a lot."
Center Al Horford did a quick mock calculation, "86,344," he said.
But here is why the Gators look as if they will hoist the trophy tonight: They are not tired of each other, and they are not tired of playing together.
They are the antithesis of last season's talent-laden Connecticut team, a disastrous chemistry set of players who already were thinking about the NBA and fell short of the Final Four when they lost to George Mason.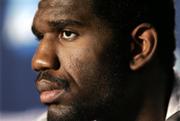 Florida's players still were thinking of tonight in the Georgia Dome long after NBA teams had them on their computers.
"I think for those guys to do that, it shows how special of a bond those kids have," Ohio State Coach Thad Matta said. "I think it shows the unselfishness that they have. Scratch that, if you would, please. Not that going pro is selfish. I think it's more of a commitment they have to each other."
Florida Coach Billy Donovan, who has his own decision to make about Kentucky, said he hoped his players' example would help others tune out both the outside influences and the tiresome moralizing that accompanies their decisions.
"I think every decision is based on a young man and his family and how they feel," he said. "I'm not sitting there saying that to leave early is a bad thing or it's the wrong thing, or it's the right thing. It's really a situation where it's what's in your heart.
"The reasons they chose to come back were basically one reason only - happiness and their joy of playing with one another."
The decision about whether to play college basketball at all is no longer as much in players' hands after the NBA instituted a minimum age that essentially requires players to be a year out of high school.
Some coaches fear the rule will have dire consequences - perhaps creating one-and-done players who don't attend class during their second semester - but it has not yet had an ugly effect.
Kevin Durant, the Texas freshman who was in Atlanta to receive a series of national player of the year awards and said he would make a decision "in the next couple of weeks" about whether to declare for the draft, stayed for Saturday's games but said he'd be back in Austin, Texas, today.
"I have school on Monday," he said. "I can't miss class."
Greg Oden, Ohio State's chiseled-faced freshman, has been a model player even though he has been projected as a future No. 1 overall draft pick since his junior year in high school.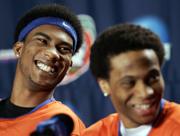 "I'm enjoying college right now," he said. "It's a great experience to have, especially when you put being here into the equation. I enjoy my teammates, and my classes aren't that tough. I'm having fun right now, and Ohio State is a great school."
Make no mistake, he is a kid.
"Easton mall in Columbus, that's a fun place to go," he said. "I like the GameWorks."
And even though he might pass for 35 or 40, Oden said he wouldn't be trying to get into any bars.
"I'm pretty sure they wouldn't let me in because somebody would probably say, 'Uh, that's Greg Oden,'" he said.
Someone wondered how long it might be before another team follows Florida's example.
"Hopefully, next year," Matta said, drawing peals of laughter.
Oden, whose deadpan demeanor disguises a wry sense of humor, didn't change his expression once.
Point guard Mike Conley Jr. said, "It would be great to come back and play with the same group of guys. But you know, hopefully everything works out, and people are going to make decisions that are right for them."
Oden wasn't giving anything away. But Conley, who has played with him since grade school, said "my mind set is that he is coming back next year," but added, "it's going to be different playing without him next year if he does go."
The days when the best players became seniors and freshmen weren't eligible have been exchanged for an era when the best players rarely become seniors and the best freshmen play only one year.
To each his own.
"Basically, just think about if you're going to be happy and what's best for you," Brewer said. "Don't let other people push you out the door, or try to make you stay.
"If you're happy with your teammates and where you're at, stay. But if you have to go, go. It's all about what makes you happy, I think."
Copyright 2018 The Lawrence Journal-World. All rights reserved. This material may not be published, broadcast, rewritten or redistributed. We strive to uphold our values for every story published.