Photo Gallery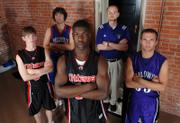 All-Area Boys Basketball
Ottawa High coach David Grover sent Victor Ojeleye a text message during basketball season that said the following: The record at Ottawa for most rebounds in a game is 19 - beat it.
Talk about motivation.
Ojeleye, a senior forward, made his coach proud and grabbed exactly 20 rebounds in a game this winter.
"Another time, he also told me that no one's dunked twice in a game before," Ojeleye said of the Ottawa record books. "So I came back and dunked four times in a game."
You could say Ojeleye is a rare athlete. He owns every Ottawa scoring and rebounding record since the mid '70s. He averaged 26.5 points and 12.6 rebounds per game for the Cyclones, who finished 16-6 while advancing to the Class 5A sub-state finals.
Ojeleye's big season earned him recognition as the All-Area Boys Basketball Player of the Year.
Oddly enough, Ojeleye didn't even pick up a basketball until seventh grade.
"I've played soccer since I was born," said Ojeleye, who was born in Nigeria. "We moved to Kansas when I was 4. Seventh grade was the first time they offered sports. I didn't really have any skills or knowledge of the game. I didn't even know what the calls were on TV."
Grover said Ojeleye wasn't even in the starting lineup as a sophomore. He matured rapidly after his second year in high school.
"It was his work ethic," Grover said. "You walk by the gym, and he's there. You walk by the weight room and he's there."
Ojeleye improved so much that opposing teams caught onto the act. The senior faced box-and-one defenses on a weekly basis. He also faced double- and triple-teams routinely.
Frankly, it didn't matter.
"I think the strength of my game is my versatility," Ojeleye said. "I can get points from all over, especially from offensive rebounds. I like playing on the wing. And the post has made me a lot tougher down low."
Ojeleye eclipsed 1,000 points and 500 rebounds during his Ottawa career. He hasn't committed to a school yet, but representatives from Wichita State, New Hampshire and Dartmouth are giving him a look for basketball next year. Grover said Ojeleye likely would play small forward at the next level.
Ojeleye overcame a left ankle injury during his junior year, where he missed five games. He said after his return, he was only 60 percent for the remainder of that season.
"All summer I made a goal to work hard and get everything back to speed," Ojeleye said of the summer before his senior year. "I always was in the gym. I always want to learn. I want to be a coachable player. I think it was a great way to maximize my potential."
He's not only a student of basketball but also an exceptional student in the classroom. He maintained a 4.0 GPA throughout high school. He said he'd be interested in studying engineering or business in college.
"My parents are the basis of my academic balance with sports," Ojeleye said of Joy and Ernest Ojeleye. "I feel it's important to honor your parents."
Ottawa finished 10-2 in Frontier League play this winter and lost to Wichita Carroll in the sub-state championship game. Ojeleye still scored 30 points.
"He's just a once-every-two-decades kind of kid," said Grover, who finished his 15th season as Ottawa coach. "He's the most complete player we've had in a uniform here. We're going to look up in four or five years and say, 'Wow, he's going to be something.'"
Copyright 2018 The Lawrence Journal-World. All rights reserved. This material may not be published, broadcast, rewritten or redistributed. We strive to uphold our values for every story published.