Speech choir dates
Upcoming performances of Baker University's Speech Choir:¢ "The Barmen Declaration," for a Baker course on the Holocaust, 7 p.m. Wednesday, Owens Audio-Visual Room, Baker.¢ Gospel Extravaganza, 2:30 p.m. April 14, First United Methodist Church, Baldwin.¢ Champions of Character Coaches Luncheon, noon May 8, location to be announced.
Photo Gallery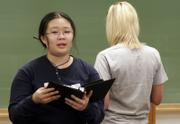 Baker University Speech Choir
Hear the Baker Speech Choir rehearse a piece about domestic violence awareness.
For once, all 11 students in a classroom are supposed to be talking at the same time.
The Baker University Speech Choir is practicing for an upcoming performance about domestic violence, and members are spouting off a list of statistics about the topic.
Each member introduces a new piece of information loudly. Then the member drops his or her voice down to a murmur as the next member introduces another piece of information. Eventually, the whole room is filled with an audio blur of facts and figures.
"It assaults my senses," Josh Neneman, a freshman from Dodge City, says after the rehearsal.
"Well, that's the idea," professor Susan Emel retorts.
The Speech Choir has been around since 2003. Emel, a professor of communication and the group's teacher/sponsor, says she's not aware of a similar choir at any other university.
The group typically researches topics, and Emel puts together a script that is eight to 12 minutes long.
The pieces are part entertainment and part information. For instance, the bulk of the domestic violence piece, which was performed at a Baldwin coffee shop last week, had members read interwoven quotes from domestic violence victims, news reports and poetry.
"You touch people, even if they don't hear it all," says LaTasha Roberts, a senior from Louisburg who has been in Speech Choir three years. "They learn something."
The group has performed for Baker's Founders Day, chapel services, the inauguration of new president Pat Long, the Gospel Extravaganza at Baldwin's First United Methodist Church and other events.
Roberts says a good Speech Choir performance comes when members know their material well.
"It's becoming your piece," she says. "If you can become your piece, you can be focused on what you're trying to portray."
Having a good understanding of the material also helps with stage fright, says Kelly Vaughan, a junior from Denison, Iowa, who is in her first year.
"It's a lot of practice," she says. "Anybody can do it. You don't memorize it, but you shouldn't have to read every word on the page. As many times as we do this in the school year, you get pretty used to it."
Emel says the Speech Choir is easily transported to off-campus events, which makes it an attractive option for entertainment.
"We're more portable," she says. "We can go anywhere and put together a piece quickly."
Even so, explaining the concept of the Speech Choir sometimes takes a little time - both to prospective members and to prospective audiences.
"I had never heard of a speech choir before," says Sheena Wong, a freshman from St. Louis.
Her explanation when people ask: "It's taking prose, some information and other bits of stuff you can't put into songs or other performing arts, and combining it in a way that's easy to understand."
Copyright 2018 The Lawrence Journal-World. All rights reserved. This material may not be published, broadcast, rewritten or redistributed. We strive to uphold our values for every story published.