Photo Gallery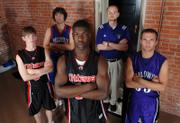 All-Area Boys Basketball
Before last season, the Baldwin High boys basketball team hadn't won at least 15 regular-season games in 15 years.
Then, Eric Toot took over the program.
Before last season, Baldwin hadn't won its own tournament, the Baldwin Invitational, in 15 years.
That was before Toot ran the show, of course.
The first-year Baldwin boss led the Bulldogs to a 17-6 season, the championship in their home tournament and a runner-up finish in the Class 4A sub-state tournament, a list of accomplishments that makes Toot this year's choice as the All-Area Boys Basketball Coach of the Year.
"The reason we were able to have success this year was the simple fact that I had a group of kids that played hard but practiced hard every day," Toot said. "It almost got to the point that I had to back them off because they were going so hard."
Toot coached the Baldwin girls basketball team for five years before taking over the boys program. Sandwiched between the stints was his role as the assistant women's basketball coach at Baker University last year.
Toot, 35, always wanted to come back to Baldwin High. A 1989 BHS graduate, he has set the bar noticeably high for future Bulldog basketball teams.
The last time Baldwin went to the Class 4A state tournament was in 2000, when it placed third. Before that, the Bulldogs hadn't visited the state tournament in 25 years.
In his first season, Toot fell just short of taking Baldwin to state. Baldwin lost to Kansas City Piper, 41-39, in the sub-state final March 3.
"I plan on being here a long time, and I want the bar to be set high," Toot said. "I think this year set the tone that we have the opportunity to have success here at Baldwin on a consistent basis."
Copyright 2018 The Lawrence Journal-World. All rights reserved. This material may not be published, broadcast, rewritten or redistributed. We strive to uphold our values for every story published.