It wasn't like the Rev. Ashley Masoni had anything against Episcopals. She just wasn't one of them.
She had grown up in the Lutheran church, attended a Lutheran seminary and was ordained a Lutheran pastor.
So when an Episcopal church offered her a pastor position, she initially did a little head-scratching.
Eventually, though, she realized the unusual calling might just send a message about crossing denominational boundaries.
"I can see why these differences are important in our hearts," Masoni says. "There's a comfort level with the way we've always done it. And they think, 'If we give a little here, what else do we let go?' But it's important to be open to change."
And that, in part, is why the 29-year-old accepted the position of pastor of congregational life and worship at St. Margaret's Episcopal Church, 5700 W. Sixth St.
The appointment was made possible by the Call to Common Mission, a 2001 agreement between the Evangelical Lutheran Church in America and Episcopal Church USA that gives full clergy rights to Lutheran pastors serving in Episcopal churches, and vice versa.
Masoni's appointment is the first time in Kansas that a Lutheran minister has accepted a full-time, permanent Episcopal position.
"It's pretty exciting - it's a historical moment for us," says Darrel Proffitt, lead pastor at St. Margaret's. "But the reason I'm excited is not so much that it's historical. God is dissolving the barriers that separate us as Christians. I don't think it was God's intention to have denominations. The gospel is very clear about that. We are to be one."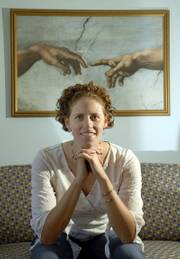 Common purpose
The Call to Common Mission was signed, in part, to give the Lutheran and Episcopal churches a larger candidate pool for hiring pastors.
It also gives the churches options in smaller towns that might not be able to have a full-time pastor for both Lutheran and Episcopal churches. An Episcopal priest in Liberal, for instance, also is serving at a Lutheran church there.
"It's a wonderful sign of our understanding that we have a very deep communion between two Christian bodies while having our organizational separateness and maintaining our own traditions," says the Rev. Gerald Mansholt, bishop of the Central States Synod of the Evangelical Lutheran Church in America.
The Lutheran church has similar agreements with the Presbyterian Church USA and the United Church of Christ.
Mansholt says the Episcopal and Lutheran denominations are similar in that both follow a liturgy - a schedule of readings and topics for services - and put a focus on sacraments such as baptism and communion.
"Pastor Masoni remains a Lutheran pastor," Mansholt says. "She has been trained and educated within a Lutheran seminary and remains accountable to the bishop in the Lutheran church - to me as her bishop. She's serving as a Lutheran pastor but within the Episcopal church, with respect for Episcopal teachings and traditions."
Bridging gaps
Masoni, a native of Emporia who graduated from Kansas University in 1999 with a history degree, attended Pacific Lutheran Theological Seminary in Berkeley, Calif. She served as an associate pastor at Atonement Lutheran Church in Overland Park after graduating from seminary.
Masoni says certain aspects of serving in an Episcopal church - when to hold certain items up during communion, or the wording of some prayers, for example - have been a challenge to learn in her nearly two months on the job.
But she says many one-time Lutherans and non-Episcopals attend St. Margaret's, so she hasn't heard much questioning about her denominational background.
Masoni has high hopes that the Call to Common Mission will help spur additional cooperation between the two denominations. She's already contacted a Lutheran piano player to assist with a service, and there's talk of doing joint Bible studies.
And she thinks the agreement is a sign of larger changes among mainline Protestant churches.
"People who don't go to church talk about why there are denominational differences," Masoni says. "As someone who goes to church a lot, I see those denominational differences, but denominations are trying to bridge gaps. We need to overlook differences and celebrate differences. We have to come together, because we're still centered on one thing - that Jesus Christ is our savior."
Slowing the exodus
Bridging those denominational gaps, Masoni says, is one key to helping save mainline churches.
"With mainline Protestants right now, there's a lot of exodus - church isn't the hip thing to do," she says. "We can help keep alive things that are slowly dying. ... I think it starts with opening our minds about change. In a dying church, if you don't open your mind, you still die."
St. Margaret's itself is an anomaly among mainline churches - it's growing. In addition to adding Masoni's pastoral position, the church recently opened a building addition and continues to add members.
Having a Lutheran pastor fits in with the overall mission of the church, Proffitt says.
"St. Margaret's is an unusual church," he says. "We're an Episcopal church, and we don't run from that. We're happy to be. But we're trying to reach more people than Episcopalians. Our congregation as a whole is unique in that not everybody was Episcopalian when they came here. It was never a question that (Masoni) wouldn't be a good fit here, or couldn't minister here, just because she's a Lutheran."
Proffitt says his congregation has received Masoni with open arms, and he expects her to be a good fit at the church.
But he doesn't mind that her appointment sends a larger message as well.
"I think it's symbolic to the world," he says. "That which once stood in our way is being eliminated. It's powerfully symbolic for the church and the world that we're more interested in extending the kingdom of God than we are in denominational politics."
Copyright 2018 The Lawrence Journal-World. All rights reserved. This material may not be published, broadcast, rewritten or redistributed. We strive to uphold our values for every story published.