Dan Rolf wants to be a nice guy about all the high school students who linger on his corner before classes and during their lunch hour.
"I don't want to be a grouch about this," Rolf said. "Lawrence High is in our neighborhood."
But their trash - half-eaten hamburgers, Styrofoam trays, fast-food sacks and cigarette butts - is getting to him.
The students often make it difficult for his family to use their own sidewalk and driveway leading up to their home at 1945 Ohio.
"It's pretty obnoxious when my wife can't walk down the sidewalk," he said.
LHS is only a block to the west from his home.
"It seems like something needs to be done," he said. "There needs to be a long-term solution."
Kathy Deel, 1940 Ohio, said trash is a daily problem.
"They leave their lunch sacks out on the street or on our yard," Deel said. Cigarette butts and drink cups are also left behind.
Deel, who has lived on the street for 30 years, said she hadn't complained to the school about it for a while. One year, LHS sent over someone to pick up the trash after school, she said.
Rolf, 30, the director of the architectural resource center at Kansas University's Marvin Hall, bought his house earlier this year. When he, his wife and their 3-year-old son moved in last March they found they had visitors out in front of their home every school day.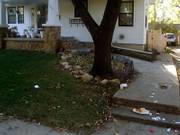 "It was a total surprise," Rolf said.
It's not so much the crowd of students Rolf has a problem with. He has lived in densely populated neighborhoods before in the San Francisco and Kansas City areas. It's just cleaning up the trash and dealing with people coming onto his property, he said.
Last spring, he talked to those gathering outside his house and asked them to pick up their litter. That seemed to work some. But it's a new year, a new group of students and he's back to square one.
"No matter how many times I talk to them, it's going to be a different group next year," he said. And that's why a long-term solution is needed, he said.
Jerry Schultz, a member of the Centennial Neighborhood Assn. steering committee, said the problem has come up in the past.
"I'm always keeping an eye on that, too, because I'm just a block over on 20th and Tennessee," Schultz said.
"The school will work with us. They have in the past, anyway," he said.
Steve Nilhas, LHS principal, said the school tries to work with neighborhoods.
"When you concentrate 1,500 people (which includes some 1,300 students) in an area of two square blocks, there are always going to be some concerns," Nilhas said.
"We want to exist in this neighborhood and be good neighbors," he said. "So certainly we're going to do what we can to make it better."
Neighbors who move near a school should be treated with respect by the students, he said.
As a start, LHS will install some additional trash cans in the LHS Annex parking lot along Louisiana street near 20th Street, he said.
"We put it in the announcements from time to time," he said. "We talk to kids that park out there they need to take care of trash."
Even though students haven't been suspended for littering in the neighborhood, the school does take an interest, he said.
Nilhas said there has been some discussion about keeping students on campus for lunch.
"That's something the community will have to decide about how they want to handle that," he said.
Copyright 2017 The Lawrence Journal-World. All rights reserved. This material may not be published, broadcast, rewritten or redistributed. We strive to uphold our values for every story published.