Editor's Note: This is the third story in a five-part series about how Douglas County residents benefit from the 26 United Way agencies. Today, we look at Success by 6, one of three agencies that strengthen families. The United Way of Douglas County campaign runs Sept. 12 - Nov. 17.
Denise Burton said she arrived last spring in Lawrence with "nothing but the clothes on her back."
Burton, who was pregnant with twins, stayed at a women's shelter in Lawrence with her two children Asia Goodwin, 6, and Don'na Lindsey, 1.
Burton said she was in an abusive situation in Arkansas and initially sought shelter in Kansas City, where her brother lived, but they didn't have room there and recommended the Lawrence shelter.
In April, Burton said she sought help at Bert Nash Community Mental Health Center, which called the Success by 6 Coalition of Douglas County.
Success by 6 and its family resource team leader, Judy Wasko, answered the call for help.
Burton said they helped provide her items such as clothing, shoes, beds, diapers, food and educational tools.
They also helped find eye care for Asia, who was almost blind in the left eye but Burton didn't know it.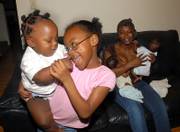 "If there was anything that I needed, they made sure there was a source to get it," Burton said. "I don't know what their limit is on providing services, but I feel they went over the limit when it came to me."
Like a family
Burton said not only have they provided her with resources, but she feels as if they are her family and friends.
"I didn't know anyone when I moved here," Burton said. "I had no support - no family. So, whenever I need to talk to someone, Ms. Judy is there."
She said Wasko checks in with her about twice a week - either with a home visit or phone call.
Burton, 26 and a single mom, said she considers herself blessed. She is living in an apartment and busy raising her four children, which includes her 2-month-old twins David and Daniel McVay. Burton said she plans to find work when her twins are old enough to be left with a child care provider.
Wasko said the agency is working on providing Burton with some transportation and a computer so she can work on getting her GED from home.
Burton said Success by 6 has helped her realize the positives in life and helped put her and her children on track for a bright future.
How to give
If you would like to donate to the United Way of Douglas County's fundraising campaign, call 843-6626 or visit its Web site and fill out a pledge form.
If you are interested in becoming a "big" in the Big Brothers Big Sisters program, call 843-7359 or attend an information meeting at 5:15 p.m. Tuesdays or noon Wednesdays at the office, 1525 W. Sixth St. Suite A.
And Wasko said Burton deserves credit for her hard work and following through on the agency's suggestions.
"She works right alongside us with a good attitude," Wasko said. "She really does your heart good. She has come an incredibly long way."
Providing a leg up
Rich Minder, collaborative projects coordinator for Success by 6, said the coalition helps about 35 families at any given time, and estimated it provides services for about 90 families a year.
Minder said Success by 6's services include helping families get a medical card, locating food banks and finding child care.
"A lot of times they just need some help navigating the system," Minder said. "They just need help in figuring out what is available and where."
It also provides parenting tips and resources - similar to the TV show "Supernanny."
"In the olden days, you had a grandma and a whole support network of people that helped moms when they just had babies," Minder said. "Nowadays, a lot of times, moms are just out there on their own and just in need of support - a friend coming in and supporting them and helping out."
Minder said Success by 6 is able to provide such services through its numerous partners such as Tiny K Early Intervention, Douglas County Child Development Assn. and Bert Nash. Funding comes from federal and state grants. As a new United Way of Douglas County agency, Minder said the funding would be a key source in matching funds.
During the past five years, "we've been able to pull over $3 million in funds outside of Douglas County because of the leveraging and hard work of local resources," Minder said.
Success by 6 can help you if:
¢ Your child is age 5 or under.
¢ You live in Douglas County.
¢ Your family would like to have help with parenting and family life.
For more information about the coalition, call 842-8719 or click on douglascountysuccessby6.org.
Strengthening families
Other United Way of Douglas County agencies that strengthen families:
Ballard Community Services provides services in a variety of ways such as an affordable early childhood program, food programs, rent and utility assistance programs, clothing assistance programs and medical assistance programs. 842-0729.
Douglas County Child Development Assn. provides services through child care tuition scholarships, sponsorship of the Child and Adult Care Food program, an infant/toddler specialist, and training for child care workers. 842-9679.
Copyright 2018 The Lawrence Journal-World. All rights reserved. This material may not be published, broadcast, rewritten or redistributed. We strive to uphold our values for every story published.