Running around the field playing forward and diving after laser-beam soccer balls as a goalkeeper should be tiring enough. For Free State High senior Mitch Morrow, it's not as tiring as you might think.
In fact, he even makes extra time to participate in another fall sport. You also can find him kicking occasional field goals and extra points as part of Bob Lisher's football team.
"Both coaches have been really good about it," Morrow said. "(Coach Jason) Pendleton will sometimes let me leave in the middle of soccer practice to go work on kicking when the football team is working on special teams."
Morrow has a greater role on the soccer team than he does on the football team. He has started at goalkeeper for most of the season, but has had freshman Ethan Morton-Gaught breathing down his neck for playing time. Pendleton said he liked the upside of Morton-Gaught, but he lacked the experience to start consistently.
Enter Morrow - and a new situation. He said he played forward for most of his life. He had to learn playing goalkeeper for the majority of the summer. As for the competition from Morton-Gaught, Morrow said he expected it coming into the season.
In the first game of the season, Pendleton took you out in favor of Morton-Gaught, but you've played goalkeeper for the majority of the season. Do you feel your position is still up for grabs?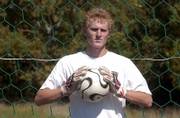 No, but I really don't mind it because I haven't played goalie that much, so when he does get in the game, it usually gives me a chance to play out in the field, which I enjoy. It's not that big of a deal, as long as he gets done what he should.
Do you expect to start at goalie the remainder of the season?
It really depends. Last week, one of our starting defenders (freshman Daniel Chance) got hurt. Coach Pendleton said that he might have to play me out in the field to fill in for his spot. But he said he still wasn't sure.
How's your relationship with coach Pendleton?
Coach Pendleton's been unbelievably helpful to me in both soccer and football. Academically, I've had his history class in school. He actually kicked (in football) in college, so he'd go over and help me figure out new kicking drills and techniques in football. He's just a great coach.
So how did you decide you wanted to be on the football team as well?
Actually, I didn't play soccer in ninth grade, and I played football at West. I was the kicker there. My friends on the football team said they needed a kicker.
Kicking a football versus kicking a soccer ball - what differences have you noticed in games?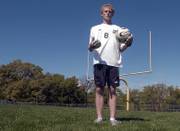 I'd actually say kicking a football is a little bit easier because you have a clearer view of where you want to kick the ball. But it's a little bit more awkward to kick a football. Even though both the football and soccer ball are potentially stationary, the football isn't so much dependent on what you do with it because you have your holder. You have to depend on him, and if it's a bad snap, you have to adjust. That makes it a little more awkward.
How do you decide what practice to attend?
Soccer's always going to be the first priority. Usually, if I go to a football practice, it will be after the soccer practice is done because football usually goes later, so I can get over there and kick. But on occasion, I'll leave soccer early if it's pregame for football and they're working on extra points. Pendleton's pretty good about letting me go over and do it.
As a senior this year at Free State, do you have any college plans for the future?
My dad wants me to go out to the West Coast, because a lot of my family lives in northern California in Redding. I haven't checked out any schools yet. I might actually take a year off and get more situated there, get a job, kind of settle and get in-state tuition because it's expensive.
Are you going to look to play soccer when you're there?
I really don't know. More than likely, I'll focus on my education because even though soccer is fun and I enjoy it a lot, I really don't know if I'll have time to balance that in college.
What's your hope for the Firebirds in soccer this season?
I'd like to win another regional championship. That was pretty fun last year. I don't know if we'll be able to do that because we had a really strong senior class last year. We had seven or eight seniors who were really good, and we had to rebuild our whole defense.
How far do you think the football team can go?
I think they have a pretty strong shot of winning the state championship. They have an incredible senior class with the Murphys, Christian Ballard, Mikel Ruder and Richard Flaig. I really do think they have a good chance of winning it.
If it came down to choosing to play for the state title in soccer or football, which would you choose?
Soccer. I've spent a lot more time with soccer, and, in my opinion, it's more fun to play.
Copyright 2018 The Lawrence Journal-World. All rights reserved. This material may not be published, broadcast, rewritten or redistributed. We strive to uphold our values for every story published.