After 13 years of moving Lawrence businesses, museums and homeowners, Tom Van Holt is ready to expand his Starving Artists Moving business into the Kansas City metro area.
He plans to plow all the profits from that expansion into local charities and a relief effort he's overseeing for Thailand tsunami victims - people he can't forget, after having ridden out the December 2004 calamity himself in a boat off the Thai shore, steered to safety by local guides.
"I don't need the money," Van Holt said. "I'd much rather do something like this with my life rather than build a palace."
Van Holt said that his 13-year-old business was poised to expand, especially as revenues have increased by at least 30 percent a month so far this year.
Starving Artists Moving employs eight full-time and 14 part-time workers.
In branching out from Lawrence, Van Holt wants to establish his business in Johnson County and go from there.
He foresees the possibility of expanding to other cities, such as Omaha, Neb., Colorado Springs, Colo., and Oklahoma City.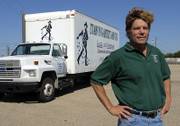 Profits from those ventures, too, would go to charities and possibly to a foreign relief effort, he said. An Omaha branch might adopt a village in a Central American country such as Nicaragua and set up a medical clinic or school.
"It's pie in the sky now, but I've been in business for a long time and I know what I'm doing," said Van Holt, who often travels outside the country. "I've been thinking about this for a long time."
Van Holt hopes to get the business started in Johnson County next year. He figures it will require about $40,000 in startup costs and estimates that as much as $160,000 could be earned that year. After subtracting the startup, fuel and employee payouts, he figures about $15,000 would go to charities or Thailand. That amount would increase in the following years, he said.
Van Holt said he would be willing to disclose to his customers the names of charities that would receive donations. The charity aspect of the business will not be hyped in advertising campaigns, although it might be mentioned in brochures.
More about Van Holt's trip
"It's not the way to sell your business," he said. "You want to build your reputation first."
Next month Van Holt will return to the Surin Islands of southern Thailand, where he has been working to find a way to help the village of Kuraburi and the surrounding area recover from the devastating tsunami. He will link up with two or three others from the area in an attempt to find a local person who is willing to go to medical school and return to the area to practice.
Van Holt said he would pay such a person's medical school costs, using $15,000 of his own money immediately, if necessary. Kuraburi has a hospital but only two doctors to serve about 30,000 people, Van Holt said.
Van Holt is especially interested in the Kuraburi area because he was offshore with other tourists on "long boats" steered by local guides when the tsunami struck. No one on the boats was injured or killed, and he credits the guides for keeping them out of danger.
Van Holt also plans to locate and interview the five boatmen and eventually write a book about them and the experiences of that day.
After Van Holt returned to the U.S. in 2005, following the tsunami, he organized Waves of Relief, a nonprofit organization designed to help the Thai tsunami victims. That effort was sidelined for a while in late 2005 when the Gulf Coast states were hit by hurricanes; Van Holt redirected the organization's focus toward helping in Louisiana and Mississippi.
Copyright 2017 The Lawrence Journal-World. All rights reserved. This material may not be published, broadcast, rewritten or redistributed. We strive to uphold our values for every story published.