Kansas University freshman Harrison Green of Lansing finds it more difficult to roll out of his Oliver Hall bed for an 8 a.m. class two times a week.
Especially because he routinely hits the sack around 1 or 2 in the morning.
"I have more stuff to study, and I guess Mom's not around to tell me to go to bed," he said.
It's a culture shock shared by many college freshmen after they move into a residence hall, where things can go on at all hours of the night.
"I think students may be particularly trapped in an awkward situation," said Michael Twery, acting director of the National Center on Sleep Disorders Research through the National Institutes of Health in Bethesda, Md.
Health experts have warned for years that Americans may put their health at risk with poor sleep patterns, and researchers published several new studies in the last week that linked poor health with poor sleeping habits, including in young adults.
For college students, some say late nights and irregular sleeping patterns could defeat the real purpose of school.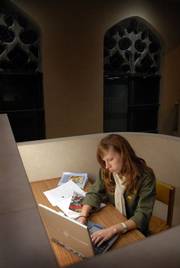 "They are going to have less ability to concentrate and to maintain alertness in class," said Maryanne Middleton, clinical coordinator for Lawrence Memorial Hospital's Sleep Center. "They are going to have problems with their studies and being awake."
Students and young adults need seven to nine hours of rest per night, according to published studies. It's also important to go to bed around the same time each night and to wake at the same time each morning.
"Sleep debt is accumulative, so if you make a habit of it, it does continue to get worse and worse," said Dave Dempsey, director of respiratory therapy and the LMH Sleep Center.
Dempsey said some college students may adhere to the idea, "I'll sleep when I'm dead."
"That's not a good philosophy. It just makes you miserable," he said. "If you sleep well and you get a good sleep, your immune system is up, your brain functions better along with all other things to help you stay alive the next day."
Poor sleep habits can have long-term consequences, Middleton said.
"It just develops a pattern, so they have trouble with sleeping the rest of their lives," she said.
Regarding national research, Twery said young adults who regularly sleep less than seven hours per night may have a greater risk of health problems, including weight gain and glucose resistance for diabetes.
Because young adults typically want to stay up later, Twery said it's best to make a schedule to still fit in enough sleep around the same time each night.
It sometimes takes discipline to get a good night's sleep, Middleton said.
"We say make sleep a priority," she said. "You have to make decisions, and some of them have to be smart decisions."
Green, the KU freshman, says he's trying to start getting to bed earlier, but as the semester drags on, he may face more study demands.
"It's coming pretty soon," he said of his first all-nighter.
Good night's rest
Health experts offer a few tips to improve sleeping habits: ¢ Make your bedroom as comfortable as possible. Create a quiet, dark atmosphere. ¢ Drink milk or eat turkey or tuna fish before bed. They are rich in the amino acid L-tryptophan, which can increase brain levels of serotonin and melatonin that aid sleep. ¢ Develop a regular bedtime routine, and try to go to bed and get up at the same time every day. ¢ Read a book or do a repetitive or calming activity to avoid distractions that may hold your attention and keep you awake. ¢ Avoid caffeine after lunchtime, and do not take someone else's over-the-counter sleeping pills. Only take sleep medicine with your doctor's permission. Sources: American Institute for Preventive Medicine, National Sleep Foundation.
Copyright 2018 The Lawrence Journal-World. All rights reserved. This material may not be published, broadcast, rewritten or redistributed. We strive to uphold our values for every story published.