Moscow — After nearly five hours of punishing, draining tennis, the United States was left with an unmistakable fact: It is out of the Davis Cup again, and the days of relying on Pete Sampras and Andre Agassi are long gone.
The latest loss came in the semifinals Sunday when Andy Roddick lost, 17-15, to Russia's Dmitry Tursunov in a fifth-set marathon.
"You feel like you let your teammates down and your country down," Roddick said. "It's not an easy thing, especially to fight back all that way and to lose. It's tough."
The Americans trailed 2-1 entering the last day of the best-of-five competition and needed singles victories from Roddick and James Blake on the clay court at Olympic Stadium to advance.
But Tursunov put Russia into the title match against Argentina by winning, 6-3, 6-4, 5-7, 3-6, 17-15, in the clincher. Blake defeated Marat Safin, 7-5, 7-6 (4), in an inconsequential finale, leaving Russia with a 3-2 victory.
The Russians will play host to Argentina in December in their first Davis Cup final since they beat France in 2002 for their only title. Argentina ousted Australia in the other semifinal, completing a 5-0 rout in which Sunday's last match was declared a walkover. Russia coach Shamil Tarpishchev said he would not play on clay against Argentina.
The 72 games by Roddick and Tursunov tied a record for the most in a World Group match since the tiebreaker was introduced in 1989 - France's Arnaud Clement defeated Switzerland's Marc Rosset in the 2001 quarterfinals in 72 games. Sunday's match lasted 4 hours, 48 minutes.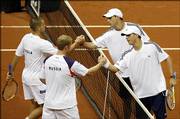 "When you're coming up on the five-hour mark, I promise you, neither one of us is feeling fresh. Especially when you add in the tension and nervousness of the Davis Cup," Roddick said. "I think I could just as easily have won as lost."
U.S. captain Patrick McEnroe praised Roddick's effort, but acknowledged the Americans were a deeper team in the days of Sampras and Agassi.
"Clearly we don't have that kind of group," he said.
Roddick, who also lost his opening match to Safin, had been hoping to rally the U.S. from a 2-0 deficit for the first time since 1934. But the U.S. Open finalist lost his first service game and then the first two sets before hitting his stride late in the third - after winning only three points in Tursunov's first five service games in the set.
"It never appeared that (Roddick) was ready to give up," Tursunov said. "He fought to the finish."
In the 32-game final set, both players survived scares and held serve until Tursunov netted an easy forehand to go down 30-40 in the 11th game. He saved one break point, but then hit two shots wide to lose the game.
Tursunov then broke back to even it at 6-6 when Roddick sent a return wide after saving one break point. The players again traded service until Roddick netted a forehand slice to give Tursunov his fourth match point, and the Russian sent a backhand down the line.
"We just got lucky today," Tarpishchev said.
In qualifying play for 2007, Switzerland beat Serbia, 4-1, and Spain beat Italy, 4-1.
Other playoff winners were: Austria, Belgium, the Czech Republic, Germany and Romania.
Copyright 2018 The Associated Press. All rights reserved. This material may not be published, broadcast, rewritten or redistributed. We strive to uphold our values for every story published.