Sometimes, it's challenging enough trying to pilot a bicycle through a twisty, turny, rock-strewn, technically challenging trail through the woods.
Imagine, then, how difficult it must be to do it in the dark. In the middle of the night. All night, without sleep. In the rain.
Such was the challenge facing racers in the 24 Hours of Landahl, a 24-hour mountain bike race last weekend in Blue Springs, Mo. Riders - either solo or in teams of four or five - started out on the 11-mile course at noon Saturday. Round and round they went until noon Sunday.
"Why do it? That's a good question," said Lawrence's Joe Gatti, a dentist and part of a four-man team that placed second in the men's master's class (45 years and up) and 10th overall. "As I told my wife, it's sort of like fun, but not really. It's sort of a cross between an athletic event and a rock concert."
Gatti's team - the Hammergel Cyclehawks - included two other Lawrence riders, John Flynn and Tom Liebl. It picked up another rider, Mark Bauer, from St. Louis.
The Cyclehawks completed 15 laps around the course, each averaging just over an hour per lap.
The only extended down time came between 2 and 6 a.m., when the approach of severe thunderstorms forced organizers to yank riders off the course.
"My first lap after that," Gatti said, "was a mud lap. The first four miles, I was able to ride my bike maybe half a mile, it was so clogged with mud. The conditions were pretty crappy."
Even without the weather challenge, round-the-clock mountain-bike races can be a bit dicey.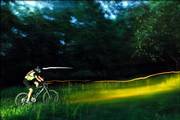 "In a lot of ways, technically, it's more challenging riding in the dark," Gatti said. "You slow up a little bit. But it's really peaceful. With the new lights, they're so bright they really illuminate the trail well. On my last night lap, I saw a turtle, a snake, a couple of deer, wild turkey. You get spread out enough, you might not see anybody else, and it can get a little spooky, especially if you get a flat tire. You'll be changing a flat and hear noises in the woods. It can get spooky."
Racing a legend
Gatti has run in marathons and raced road bikes.
But the 24-hour off-road races - Landahl was part of the Granny Gear Production six-event national points series, sort of the national championship series for the sport - have an Everyman quality that Gatti relishes.
His team, for instance, includes a dentist, a veterinarian and a musician.
Another team in the masters class featured legendary cycling mogul and mountain bike hall of famer Keith Bontrager. His Bontrager Wheelworks Masters team won the division.
"He's a legend," Gatti said. "You look at him and think, 'Wow, this is the guy who invited mountain biking.' The neat thing is, everybody is treated the same, and you help everybody out. I've run marathons, and you line up and wait, and 10 minutes before the race, they bring in some super athlete. At these things, you line up next to the world champion. He lines up the same as we do. Everybody is treated the same."
A wrench's tale
Collin Earhart knows.
Earhart, a mechanic at Lawrence's Sunflower Outdoor&Bike;, served as mechanic for another legend who raced Landahl: Nat Ross, of the Subaru/Gary Fisher mountain bike team.
"When you work in a bike shop, you kind of network, and when it comes to pro racers and the people driving the technology, you eventually are going to run into them," Earhart said. "But it was exciting meeting him. He's one of the more revered people in the sport because he's such a nice guy. He's super laid-back. He's one of the nicest guys out there."
And one of the fastest.
Ross, one of the most decorated 24-hour racers around, completed 16 laps - one more than the Hammergel Cyclehawks team - to win the men's solo class easily. Heck, he placed fourth overall - behind three teams.
"He raced a super-strong race," said Earhart, one of two Sunflower mechanics - Josh Patterson is the other - who wrenched at Landahl. "It helped that the bikes Gary Fisher gave him were super-cream of the crop. It's nice when you're working on super-nice stuff. But it was stressful. I never got to relax. I was on nails the whole time."
Ross had only one mechanical glitch over the weekend. Though Ross arrived late - around 10:30 a.m. Saturday, just 90 minutes before the start - Ross and Earhart hurried through the last-minute bike prep and made the start on time.
Ross brought three bikes to Landahl and swapped every two laps.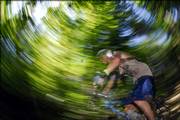 The only problem came after the storm break.
Ross left the pit area just after 6:30 a.m. to resume the race, and the rain picked up. Not long after the restart, Ross got on the radio to tell Earhart he had suffered not one, but two, flat tires, and was without the means to reinflate.
"On the CB, he was kind of freaking out," Earhart said. "He had lapped the competition, but there were two guys there who had won Granny Gear races. He was stressing out they were going to catch him. But we swapped out his bikes, and he stayed on that for the remainder of the race."
Earhart competed in a 12-hour, three-man race in Nebraska, but he found a big difference between that and working the 24-hour event.
"When you're riding, it's a lot less stressful," he said. "It's you and your buddies, having beers between laps, as opposed to working for one of the legends of the sport you just met. It's a heck of a lot different. And 24 hours is a long time. I'd never want to do that solo. Doing it on a team is a lot more fun. You go out an hour and, basically, get a three-hour break. I definitely wouldn't want to do it solo. It's so much for your body to go through. Unless you know what you're doing, unless you're training hard, it's a big undertaking."
Copyright 2018 The Lawrence Journal-World. All rights reserved. This material may not be published, broadcast, rewritten or redistributed. We strive to uphold our values for every story published.