New York — Anybody who believes Nancy Grace was chastened by the suicide of a young mother following their tough television encounter doesn't know Nancy Grace.
The prime-time prosecutor continues to focus nearly full-time on Melinda Duckett, piling up evidence to point to the Florida woman's guilt in the disappearance of her 2-year-old son, Trenton, all with the support of her bosses at CNN Headline News.
The case points a spotlight on the hard-charging Grace, who quickly has joined Bill O'Reilly and Keith Olbermann among the most polarizing personalities in cable news.
"I remain dedicated to the ongoing fight for crime victims everywhere," Grace said in a statement to The Associated Press. "Right now, our focus is on helping find baby Trenton Duckett safe and sound, and we will pursue the case until there is a resolution."
Melinda Duckett, named Thursday as the primary suspect in her son's disappearance, shot herself on Sept. 8, a day after taping the interview. Grace questioned her about what she was doing on the day Trenton disappeared, pounding her desk and asking: "Where were you? Why aren't you telling us where you were that day?"
While Duckett's ex-husband is among the people who say Grace shouldn't shoulder any blame in the suicide, questions were raised about CNN Headline News' sensitivity in airing the interview after knowing Duckett had killed herself. Portions were rerun again Thursday.
"I don't fault Nancy Grace for asking the questions," said MSNBC host Joe Scarborough. "That's her job. That's her shtick. She's an entertainer. The problem is what happened afterward. She's gone on a personal jihad against this woman. At what point does CNN step in and say 'enough's enough?"'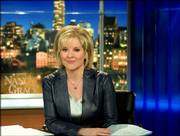 Scarborough's show last week paid almost as much attention to Grace's conduct as Grace did to the Duckett case. He calls Grace a "runaway beer truck" and said CNN Headline News gives her free rein because of her importance to the network.
A CNN Headline News spokeswoman dismissed that assessment as absurd.
Kenneth Jautz, CNN Headline News chief, said he hadn't spoke to Grace about her coverage and said he saw no reason for her to change.
"Nancy is passionate and outspoken about crime and the rights of victims, particularly in children's cases," he said. "I think that comes across in the show. I think she's been very successful because of her passion, because of her no-nonsense direct approach."
By any measure, "Nancy Grace" is a hit. It also has helped CNN Headline News transform itself: after more than two decades of running constant news updates, the network made Grace the star of its first real show in February 2005. Ratings for the time slot tripled almost overnight, and Grace frequently gets a bigger audience than Paula Zahn on CNN.
Her show airs twice in prime time, live at 7 p.m. CST and repeated at 10.
Grace went to college to be an English teacher, but her life changed in 1980 when her fiance was killed in a mugging by a man out on parole. Convinced that victims were overlooked in the criminal justice system, she became a prosecutor in Atlanta, then a quick-witted and forceful pundit for Court TV and other outlets.
True crime stories have become a genre unto themselves on cable TV, with Grace and Fox News Channel's Greta Van Susteren leading the way to especially strong ratings last summer following Natalee Holloway's disappearance in Aruba.
Grace's show feels like a courtroom on speed. Using evidence both solid and circumstantial, she pieces together cases with a prosecutorial zeal. The attention puts pressure on real authorities investigating cases. All of it, she believes, benefits crime victims.
"You're an angel to so many people, you just don't know," one fan from South Carolina said on Thursday's show.
Her critics find Grace too quick to make damning judgments, suggesting her work runs counter to the justice system's presumption of innocence. Her hunches are often right, but what kind of damage can they do when she's wrong?
Seven years ago, Grace said she "would definitely have voted to indict" the Ramseys in their daughter JonBenet's death. "There's no doubt in my mind," she said. When John Mark Karr was arrested this summer as a suspect in the girl's murder, she repeatedly called him a "perv" before the allegations fell apart. The case remains unsolved.
When runaway bride Jennifer Wilbanks was missing, Grace said, "I just don't believe it's a case of cold feet" before it turned out to be exactly that.
Lauren Ritchie, a columnist at the Orlando Sentinel, suggested Grace went over the edge by suggesting in a "Good Morning America" interview that guilt made Melinda Duckett commit suicide.
Copyright 2017 The Associated Press. All rights reserved. This material may not be published, broadcast, rewritten or redistributed. We strive to uphold our values for every story published.