Detroit — Brett Favre sprinted toward the end zone, signaled touchdown and then pumped his right fist. The 36-year-old quarterback had just become the second player in NFL history to throw 400 career touchdown passes.
He added two more scores to lead the Green Bay Packers to a 31-24 win over Detroit on Sunday for their first victory of the season.
Favre said he felt like a kid while celebrating after each TD, bouncing on his toes and leaping into teammates' arms, but his body quickly reminded him that he's not.
"I've got to stop doing that because I get so tired," said Favre, who turns 37 next month. "I have to be smarter. Mike (McCarthy) said, 'Great job, but you have to quit running around like that,' because I couldn't talk to him, I couldn't breathe.
"I was able to recover a lot easier back in the old days, but there's nothing like throwing touchdown passes."
Favre would know.
With his first TD pass of the game - a 75-yarder to Greg Jennings - Favre joined Hall of Famer Dan Marino as the only quarterbacks to reach 400 touchdown passes. Marino has 420.
"We needed a win a lot more than I needed 400 touchdown passes," the three-time MVP said.
Bengals 28, Steelers 20
Pittsburgh - Carson Palmer wasn't about to lose this one. Not against the Pittsburgh Steelers, the team he says he hates - the team he spent eight exhausting months rehabilitating his mangled knee mostly for the chance to face.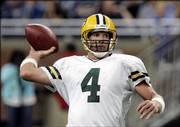 Alternating between brilliant and awful, the Cincinnati Bengals quarterback threw two touchdown passes to T.J. Houshmandzadeh less than a minute apart midway through the fourth quarter following Steelers turnovers.
Ben Roethlisberger, recovering from an offseason motorcycle accident and appendicitis attack, was an ineffective 18-of-39 for 209 yards. Palmer had three fumbles and two interceptions, yet withstood them with four touchdown passes. He went 18-of-26 for 193 yards.
Bears 19, Vikings 16
Minneapolis - Chicago and its defense are still in charge of the NFC North.
After a rough afternoon against a suddenly stingy Minnesota defense, Rex Grossman threw a 24-yard touchdown to Rashied Davis right after the two-minute warning and the Bears remained unbeaten.
Grossman completed 23 of 41 passes for 278 yards.
Eagles 38, 49ers 24
San Francisco - Mike Patterson finished his stunning 98-yard fumble return at a walk, easing his 292 pounds into the end zone. After an outstanding effort in San Francisco, the Eagles deserved a little rest - especially the big guy.
Brian Westbrook rushed for 117 yards and two touchdowns, also catching a scoring pass from Donovan McNabb for the Eagles.
Alex Smith passed for 293 yards and Michael Robinson scored two TDs for the 49ers.
Panthers 26, Bucs 24
Tampa, Fla. - Keyshawn Johnson scored two touchdowns and Jake Delhomme led a last-minute drive that produced John Kasay's fourth long field goal of the day with two seconds remaining for Carolina.
Kasay kicked field goals of 51, 50 and 49 yards before booting a 46-yarder to win the game after Delhomme marched Carolina into scoring range with help from a 14-yard pass interference penalty and a 19-yard completion to Johnson.
Johnson finished with seven receptions for 97 yards. Steve Smith returned after missing Carolina's first two games with a sore hamstring and had seven catches for 112 yards.
Dolphins 13, Titans 10
Miami - Sacks, poor passes and blocking breakdowns kept the score close, and two winless teams looked the part - until the Dolphins' offense showed a little life midway through the fourth quarter.
A 50-yard drive set up a 39-yard field goal by Olindo Mare with 3:39 left to help sputtering Miami.
Miami won even though Daunte Culpepper was limited to 168 yards passing and was sacked five times, giving him 15 this season.
Ronnie Brown rushed for 90 yards, including a 27-yard gain to set up Mare's go-ahead kick.
Jets 28, Bills 20
Orchard Park, N.Y. - Quarterback Chad Pennington and an opportunistic defense made up for the Jets' lack of a running game.
Pennington capped three drives of 58 yards or more with touchdowns, and linebacker Victor Hobson's 32-yard fumble return for a score clinched the Jets' victory.
Pennington, coming off consecutive 300-yard passing outings, finished 19-of-29 for 183 yards, including a 1-yard touchdown completion to Chris Baker. Willis McGahee ran for a career-high 150 yards for the Bills.
Redskins 31, Texans 15
Houston - Mark Brunell kept connecting, pass after completed pass. By the time he was through, he set an NFL record - and gave Washington its first win.
Brunell completed his first 22 throws, and Clinton Portis scored two touchdowns in his first start of the season.
The 36-year-old Brunell broke the NFL record for most consecutive passes completed in a game when he found Santana Moss on 6-yard pass late in the third quarter for his 22nd straight hookup. The previous record was held by Oakland's Rich Gannon, who completed 21 straight against Denver on Nov. 11, 2002.
Brunell entered the game with a completion rate of 57 percent, sparking calls for his benching. He finished 24-of-27 for 261 yards and a touchdown.
Colts 21, Jaguars 14
Indianapolis - Jacksonville thought it could contain Indianapolis' high-scoring offense by playing keepaway. Good idea, but it didn't matter much to Peyton Manning.
Jacksonville held Manning to one touchdown pass, but Indianapolis found other ways to score - on Terrence Wilkins' punt return and a rare rushing TD by the Colts quarterback - to maintain their dominance in the AFC South.
Rams 16, Cardinals 14
Glendale, Ariz. - Kurt Warner, who threw three interceptions, fumbled a snap at the Rams 18 with 1:46 to play and Will Witherspoon recovered to allow St. Louis to hold on against Arizona.
It was a fitting end for a game that featured six turnovers, four by the Cardinals.
Bulger was 21-of-31 for 309 yards and one touchdown with no interceptions, and Warner was 19-of-28 for 256 yards and one score. Torry Holt caught eight passes for 120 yards, including a 9-yarder for St. Louis' lone touchdown.
Seahawks 42, Giants 30
Seattle - The Giants wanted to take Seattle's roaring, allegedly enhanced crowd out of the game early. Plunging into the deepest first-half hole in their 82-year history probably wasn't what New York had in mind.
Seahawks quarterback Matt Hasselbeck threw five touchdown passes - four in the first half. Meanwhile, Eli Manning had three interceptions, the Giants were way behind early and never caught up.
The rout was so quick, so decisive, it rendered the incessant roaring of a Qwest Field-record crowd of 68,161 moot - but not mute. The fans were mostly mocking the stunned visitors by the end of the third quarter, after the Seahawks completed a 17-play drive that ended with Darrell Jackson's second touchdown catch for a 42-3 lead.
The former Patriot and Super Bowl MVP Deion Branch caught two passes for 23 yards and ran a reverse 8 yards. He was part of the Seahawks' new, four-wide receiver scheme
Ravens 15, Browns 14
Cleveland - Matt Stover kicked the Ravens to their first 3-0 start since the franchise moved to Baltimore when he connected on a 52-yard field goal with 20 seconds left.
Stover's 12th career game-winning kick came after Ravens cornerback Chris McAlister intercepted a pass by Cleveland's Charlie Frye in the end zone with 3:21 remaining as the Browns were driving.
Baltimore's Steve McNair then went 6-of-9 for 52 yards to set up the 38-year-old Stover, who spent five years in Cleveland but left in 1995 when owner Art Modell moved his franchise to Maryland.
Broncos 17, Patriots 7
Foxborough, Mass. - Jake Plummer threw touchdown passes of 83 and 32 yards to Javon Walker. They were Plummer's first two TD passes of the season and just the second and third touchdowns Denver has scored.
But the credit goes as much to a Denver defense that shut down Tom Brady and a New England offense that was without several of its dwindling options - rookie receiver Chad Jackson, the team's only deep threat, was out with a hamstring problem and running back Corey Dillon left in the first half with an arm injury.
The win was the fifth for the Broncos (2-1) in its last six games with the Patriots (2-1), including a 27-13 win in Denver last season.
Copyright 2018 The Associated Press. All rights reserved. This material may not be published, broadcast, rewritten or redistributed. We strive to uphold our values for every story published.