Straffan, Ireland — Losing the Ryder Cup for a record third straight time is bad enough. Getting stomped is another.
After the 181â2-91â2 pummeling the U.S. team took from the Europeans at the K Club over the last three days, there would seem to be little left to say or do.
Except maybe to face the fact that the Europeans are simply better at this team-golf thing than we are. Or wonder if their guys are now better than ours, plain and simple. How about we begin to question the very state of golf in America?
"There's nothing sweeter than beating the Americans," boasted Sergio Garcia.
As the euphoric European fans sang a favorite soccer anthem - "Ole, ole, ole, ole" - and the team members downed Guinness and sprayed victory champagne, U.S. captain Tom Lehman was left trying to make sense of his team's resounding defeat.
"I'm not even sure what to say," Lehman said helplessly. "Our team came ready, very ready. I guess we weren't quite ready enough."
With the lopsided finish, the Europeans have now won five of the last six Ryder Cups, eight of the last 12, the last U.S. victory coming in 1999 at the Country Club in Brookline, Mass.
The 81â2-31â2 advantage the Europeans chalked up in singles matches Sunday also enabled them to repeat their record-setting margin of victory from two years ago at Oakland Hills.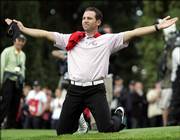 Lehman, rightfully, heaped praise on the victors, regarded by many as the strongest European team in history.
"They played inspired golf, and they never, ever did not make us pay for a mistake we made," Lehman said. He specifically cited the damage the Europeans did around the greens, chipping and putting.
But the question Lehman didn't answer, because neither he nor anybody else can, is why the U.S. team again looked so consistently out of sync, overwhelmed, unable to rise to the task at hand.
Jim Furyk, like everyone else, could offer no explanation.
"I played my heart out, poured my guts into it," he said glumly, after going 2-3-0. "Sometimes it's not enough."
Just like two years ago at Oakland Hills, guys from Europe who can't win a major championship and have at most moderate success on the PGA Tour suddenly play like a dozen Jack Nicklauses when the Ryder Cup rolls around.
Six Europeans - Lee Westwood, Darren Clarke, Luke Donald, Jose Maria Olazabal, Paul Casey and David Howell - didn't lose a match all week. Every single player on the team earned at least a half point.
On the U.S. side, seven players didn't win a match. Two of the biggest stars, Phil Mickelson and Chris DiMarco, earned a mere half-point between them out of a possible six.
"Obviously I expected to play better," said Mickelson, whose season has been going downhill since the disaster at the U.S. Open.
Beginning the day down by 10-6, the United States needed to put points on the board, and fast. It didn't happen. Very quickly, the leader board was awash in blue flags signifying a lead by Europe in a match.
Only Tiger Woods and Lehman's two captain's picks, Stewart Cink and Scott Verplank, won their matches, for a total of three points. Rookie J.J. Henry halved his match, but only because Paul McGinley gentlemanly conceded a long putt after the Cup had already been decided.
For Woods, who went 3-2-0 for the week, Sunday's singles match was the best he played since he arrived here, winning by 3 and 2. Of course, he was finally in his comfort zone (lone warrior) and his opponent was one of the two European rookies (Robert Karlsson), who probably asked him for an autograph afterward.
The only muscle on the team was flexed by Cink, who birdied four of the first five holes to win, 4 and 3, over Garcia, halting his 4-0 juggernaut; it was Garcia's first loss in the Ryder Cup since his singles match in 2002.
For Verplank, his 4-and-3 victory over Padraig Harrington was no doubt bittersweet, a postscript to his public complaint Saturday about being benched for all but two matches.
As for the rest of the team, they are missing in action, presumed lost. A search party has been dispatched but there is little hope.
Copyright 2018 The Lawrence Journal-World. All rights reserved. This material may not be published, broadcast, rewritten or redistributed. We strive to uphold our values for every story published.