Brandon Rush set his alarm clock for 5 a.m. on a crisp September morning a year ago, giving himself plenty of time to devour an energy bar and report to Allen Fieldhouse for a 6 a.m. Boot Camp conditioning session.
Oops ... the wake-up call never sounded, and the wide-eyed Kansas University freshman basketball player showed up a tad tardy.
"A little bit (late), but I had a good excuse. The power went out," Kansas University's basketball guard/forward said with a grin.
A year older and wiser, Rush realizes he'd better have a backup plan (maybe a battery-operated timepiece) in place for Boot Camp 2006, the Jayhawks' two-week conditioning program designed to prepare the players mentally and physically for the Oct. 13 start of practice.
"It's hard to get up that early. I'll just have my girlfriend come over to make sure I get up," Rush said, admitting he was not looking forward to two weeks of being sleep-deprived, starting today.
"I hate it, but you've got to go through it. We're going to bust it," Rush said of the Jayhawks giving 100-percent effort during morning defensive slides, backboard touches and sprints.
The players will try to think of it as more than a nightmare.
"Nobody in college gets up and does anything at 6 in the morning. You can't really get used to that, how early it is and the intensity of everything," KU junior Jeremy Case said.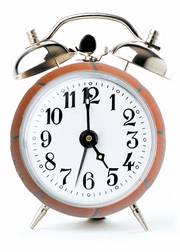 In addition to morning conditioning, Boot Camp includes weightlifting four times a week, individual afternoon workouts with coaches three days a week, unsupervised pick-up games in the late afternoons four days a week as well as evening tutoring sessions five days a week.
By far the toughest part, the players say, is responding to the clanging of the alarm at 5 a.m.
"I'd like it better if it was in the afternoon. It's hard getting up early, but it's great preparation for the season," KU junior guard Russell Robinson said.
"There are points you get tired. That's when you have got to help a teammate out - pick them up, motivate them and have the adrenaline rush kick in," Robinson added.
Obviously Boot Camp is most difficult on first-timers - the freshmen, who are forewarned in days leading up to Boot Camp.
"I am not worried about it. The younger guys ... they better be scared," Case said. "They will need us to help pull them through it. I know that."
Frosh Darrell Arthur has heard the stories of players losing their breakfast during some of the conditioning runs.
"I think it'll be tough,"Arthur said, "I'm not really a morning-type dude, but I've got to get used to it.
"The other day coach (Danny) Manning asked one of the returning players, 'Are the freshmen ready for Boot Camp?' He (returning player) said, 'I'm not sure anybody is ready for Boot Camp right now. We're just trying to get in shape.'"
The veteran Jayhawks cringe when asked about their first Boot Camp experiences.
"I thought I was going to die," Case said.
"When I was a freshman, it was much harder. It was something I wasn't ready for," KU junior forward Darnell Jackson explained. "I always thought that Boot Camp would be just like practice. It was never like practice.
"I'm not tired in the morning. I'm tired after Boot Camp."
KU's Darnell Jackson talks about boot camp.
Soph Julian Wright noted: "I learned that hydrating in the evening properly is the important thing to perform properly during Boot Camp. At night you get tired. You'd rather sleep and eat. You don't think about drinking. That and staying upbeat is important.
"After going through it one year, I feel I can help the freshmen because I was in their situation last year. I know what it felt like," Wright added.
He said he feared just one thing about Boot Camp.
"Getting sore," Wright said. "I haven't really felt the soreness yet (since end of last season).
"To actually feel that once you are between the lines ... it's tough. I will try to push myself even more so the freshmen can see how much hard work and dedication it takes before the season starts."
KU coach Bill Self, who has held preseason conditioning Boot Camp at Oral Roberts, Tulsa, Illinois and Kansas, said he had simple objectives.
"The goal is for the guys to really bond together, get closer as a team, really pull for each other and be put through some 'toughness' things that will probably be more than they thought they could do coming into it (camp)," Self said.
"The big thing is to get in shape and be ready to practice (on Oct. 13)."
Self conceded that the lack of sleep for two weeks puts some stress on everybody, but added, "I think the players like the way we do it. Even though it's a tough two weeks, they think it's better to do it this way rather than drag it (conditioning) out over a six to eight week period. I like the way we do it."
Those who have survived Boot Camp say the results are worth the pain incurred.
"It's good for unity," Rush said.
"I'm glad we have it," Jackson agreed. "It gets you ready and in shape. It teaches you how to push yourself.
"When you get tired, some people want to stop. I know I want to stop. You always have to keep telling yourself to go, go, go. If you can get through it, it helps you during the season when things are tough."
The best thing about Boot Camp will be when it ends. This year, that will be Oct. 6. If the players do well, they likely will be allowed to return to their hometowns for the weekend before Late Night in the Phog and the start of the long long hoops season.
"The last day was the most stressful," Chicago native Wright said. "They threatened to make sure no one goes home if we didn't finish our sprints so that was motivation right there. I really wanted it to end so I could go home for a couple days."
Copyright 2018 The Lawrence Journal-World. All rights reserved. This material may not be published, broadcast, rewritten or redistributed. We strive to uphold our values for every story published.