Go ahead, just try to walk an East Lawrence sidewalk without breaking your mother's back.
Preliminary results of a four-month study of the city's sidewalks reveal plenty of cracks, and many times larger obstacles to be avoided on some of the city's oldest sidewalks.
"We knew there were quite a few areas with problems," said Gwen Klingenberg, a Lawrence resident who has been championing the cause of better sidewalks. "We can tell now that it is going to take a long time to get everything addressed."
The report - which involved two city interns inspecting every public sidewalk in the city - ranked the conditions of the sidewalk on a scale of good, fair, poor and critical. The report also attempted to show where gaps in sidewalk coverage occurred.
Results are still being tabulated by city engineers, but the preliminary findings largely are what they expected: The oldest areas of town have the most sidewalks in need of repair.
East Lawrence had the largest concentration of sidewalks that fell in the critical range, which means they were heavily cracked, were covered with overgrowth or had multiple instances where the sidewalk had buckled and created a tripping hazard. For example, one area of East Lawrence - an area east of Massachusetts Street, west of Delaware Street and in between 13th and 14th Streets - had 18 of its 31 blocks of street rated critical. Only three blocks were rated good.
Enforcement issues
Conditions aren't likely to improve quickly, both city engineers and sidewalk improvement advocates said.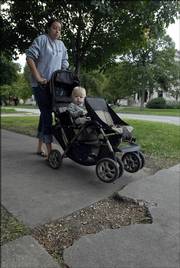 The city has an ordinance that requires property owners to maintain and repair sidewalks that run through their properties at their own expense. There's also a city ordinance that allows the city to force property owners to repair sidewalks if the walkways are buckled or cracked to the point there is a ledge of a half-inch or greater along the sidewalk.
City crews, though, have traditionally used that ordinance to force repairs only after receiving complaints from the public, meaning that it is used about a half-dozen times per year, said City Engineer Terese Gorman.
The new map, though, does a good job showing the sidewalks that likely are in violation of the city ordinance. But city officials have indicated they aren't planning to use the map for stepped-up enforcement.
"I don't know that the city is wanting to make an enemy of all those people who have busted sidewalks," said Chuck Soules, city director of public works. "Our goal is just to have a walkable community. I think that means we'll have to look to find some alternative funding methods. We'll be looking to stretch our dollars."
City Commissioner Boog Highberger, who has frequently pushed walkability issues in the city, said he not sure the city should simply start demanding property owners fix the sidewalks in front of their homes.
The cost to fix a sidewalk can be significant. To replace a one foot section of five-feet wide sidewalk can cost between $30 to $50, Gorman said. So for many property owners it would cost more than $2,000 to replace the entire section of sidewalk in front of their homes.
"I don't have the answer yet, but I think there is a way we can get back to where we need to be without being too much of a burden on people," Highberger said.
But Highberger said he also doesn't think the city can afford to take over all maintenance and repair costs of sidewalks. The city has 322 miles of sidewalk - a number that grows each time a new neighborhood is built.
Instead, Highberger said he thought the city should consider offering matching grants to help reduce the costs for residents to improve their sidewalks. He also said the city could serve as a bank to finance projects.
For example, if a group of residents along one block wanted to install a new sidewalk, the city could act as the general contractor for the project. The city could pay all the construction costs and then collect those costs from residents through special assessments on their property tax bills. That would allow residents to pay their share over a period of years.
New problems
City engineers said they believe most of the problems with the sidewalks in older neighborhoods are the result of the sidewalks being beyond their 50-year life expectancy. In addition, the older neighborhoods are more likely to have mature trees with roots pushing upward on the sidewalks.
-->
Sidewalk problems, though, can be found in about any area of town. The new map showed critical sidewalks in several new areas. For example, an area of 33rd Street between Iowa and Kasold was rated as critical, and a stretch of sidewalk along Burning Tree Drive - which is in a new residential area southwest of Bob Billings Parkway and Wakarusa Drive was rated as critical. Many of the sidewalks in relatively new residential areas west of Wakarusa Drive had degraded to the point of being rated fair rather than good.
Breakdowns of new sidewalks are particularly troubling to city engineers, Gorman said.
"When we have a newer sidewalk that is a bad sidewalk, that disturbs me," Gorman said. "That shouldn't happen."
The reason it does, both Gorman and Soules said, is because the sidewalks get damaged during the construction of new homes. Sidewalks and streets are among the first things installed in new neighborhoods. As the homes get built, it is not uncommon for large pieces of construction equipment to drive over sidewalks.
Soules said city building inspectors check sidewalks for cracks and damage before issuing a final building permit for a house. But Soules said that isn't always effective because cracks don't show up immediately. Usually, it is the weight of a vehicle that weakens the sidewalk, but it is cold weather and the shrinking and expanding ground that produce the crack.
The city is working to educate builders and landscapers on the importance of bringing equipment in and out through a driveway. Another option for dealing with the problem is to require builders to provide a one-year warranty for all sidewalks. Soules said he would want to research that option more before recommending such a policy.
"I don't know if other communities are doing that or not," Soules said.
'Baby steps'
City engineers are researching several sidewalk-related issues. Top on the list is how to spend $250,000 set aside in the 2007 budget for sidewalks and traffic calming. The money is supposed to be split between sidewalks and devices such as traffic circles and speed humps.
Why sidewalks crack
Engineers say sidewalk cracks sometimes start before a neighborhood is completed because of construction equipment traffic. But once a crack starts it can quickly grow from cold weather and the shrinking and expanding ground beneath it.
Soules said he was leaning toward recommending the money be used to fill in gaps - places where sidewalks just end - on major city streets. The new map shows gaps on several large streets such as Iowa, Sixth and 23rd streets. But Soules is cautioning people to not expect too much.
For example, there is a major gap along Sixth Street between Iowa Street and Schwarz Road. That stretch generates some foot traffic, in part, because it leads to the city's lone Greyhound bus stop.
But Soules said to add sidewalk to that area likely would cost more than $200,000.
"It would cost more than we have to spend for the entire year," Soules said.
Highberger said he recognized commissioners must get more aggressive, if they hope to make a major dent in improving the city's sidewalks.
"What we did for 2007 were just baby steps," Highberger said. "It will allow us to plug a few gaps, but it won't allow us to do much. We listened to our constituents, and they were really concerned about a (property tax) increase this year."
Klingenberg said she hoped the city moved forward on the sidewalk improvements.
"We want to be a walkable city," Klingenberg said. "It makes it difficult if you have to walk in the street because a lot of people won't do that. It's important that we do something because neighborhoods are stronger if you can get out and walk around and meet people."
Copyright 2018 The Lawrence Journal-World. All rights reserved. This material may not be published, broadcast, rewritten or redistributed. We strive to uphold our values for every story published.