EAST LANSING, MICH. — Notre Dame looked beaten, and Michigan State looked unstoppable.
Then, in a stunning turn of events, cornerback Terrail Lambert capped a furious rally by returning an interception 27 yards for a touchdown with 2:53 remaining to give the 12th-ranked Fighting Irish a 40-37 victory over the Spartans on Saturday night.
The loss stunned Michigan State (3-1) and its pumped-up fans, who remained in the stands despite heavy rain in the second half, convinced they were going to see the Spartans beat the Irish (3-1) for the eighth time in 10 games.
But it wasn't to be.
Lambert made sure of that, following up his score by ending the Spartans' hopes moments later with a juggling interception of Drew Stanton's pass in the closing seconds of the game.
"Late in the game, I made some stupid mistakes," Stanton said.
No. 1 Ohio State 28, No. 24 Penn State 6
Columbus, Ohio - Troy Smith threw a 37-yard TD pass in the fourth quarter, then Malcolm Jenkins and Antonio Smith returned interceptions for touchdowns for the Buckeyes (4-0, 1-0 Big Ten).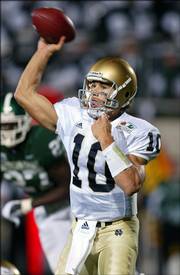 No. 2 Auburn 37, Buffalo 7
Auburn, Ala. - Backup tailbacks Brad Lester and Ben Tate rushed for two touchdowns apiece, and the Tigers (4-0) used a late surge to win.
No. 3 USC 20, Arizona 3
Tucson, Ariz. - The Trojans (3-0, 1-0 Pac-10) shook off a three-point first half and defeated Arizona with a smothering defense.
No. 4 West Virginia 27, East Carolina 10
Greenville, N.C. - Patrick White threw for two touchdowns and ran for another, and the Mountaineers (4-0) pulled away in the fourth quarter.
No. 5 Florida 26, Kentucky 7
Gainesville, Fla. - Chris Leak threw two touchdown passes, DeShawn Wynn had a second consecutive 100-yard game, and the Gators (4-0, 2-0 SEC) defeated the Wildcats for the 20th consecutive time.
No. 6 Michigan 27, Wisconsin 13
Ann Arbor, Mich. - Mario Manningham's second touchdown catch put the Wolverines (4-0, 1-0 Big Ten) ahead late in the third quarter, and Mike Hart added a score.
No. 10 LSU 49, Tulane 7
Baton Rouge, La. - Early Doucet caught two touchdown passes and ran for a third score as the Tigers (3-1) jumped out to a big early lead and knocked Tulane quarterback Lester Ricard out of the game late in the first half.
No. 11 Virginia Tech 29, Cincinnati 13
Blacksburg, Va. - Branden Ore ran for 170 yards and a touchdown, and the Hokies (4-0) overcame a sluggish first half.
No. 14 Iowa 24, Illinois 7
Champaign, Ill. - Drew Tate passed for 190 yards, and the Hawkeyes (4-0, 1-0 Big Ten) scored three touchdowns late in the second quarter to put the game away and hold off the pesky Illini.
No. 15 Tennessee 33, Marshall 7
Knoxville, Tenn. - LaMarcus Coker ran 89 yards for a touchdown, and Montario Hardesty added a 20-yard scoring run for the Vols (3-1).
No. 18 Florida State 55, Rice 7
Tallahassee, Fla. - Antone Smith ran for 137 yards and two touchdowns, and Lorenzo Booker added 115 yards in a game the Seminoles (3-1) played before one of the smallest home crowds in years.
No. 19 Clemson 52, North Carolina 7
Clemson, S.C. - James Davis had four of the Tigers' seven rushing touchdowns on a day Clemson (3-1, 2-1 ACC) honored its 1981 national championship team.
N.C. State 17, No. 20 Boston College 15
Raleigh, N.C. - Daniel Evans threw a 34-yard touchdown pass to John Dunlap with 8.5 seconds left to cap a stunning comeback for the Wolfpack (2-2, 1-0 ACC).
No. 21 California 49, No. 22 Arizona State 21
Berkeley, Calif. - DeSean Jackson caught one of Nate Longshore's four touchdown passes and returned a punt 80 yards for a score as the Bears (3-1, 1-0 Pac-10) topped the Sun Devils (3-1, 0-1) in a conference shootout.
No. 25 Boise State 41, Hawaii 34
Boise, Idaho - Jared Zabransky threw for 273 yards and three touchdowns, and Ian Johnson ran for 178 yards and two scores to help the Broncos (4-0) hold off Hawaii.
Copyright 2018 The Associated Press. All rights reserved. This material may not be published, broadcast, rewritten or redistributed. We strive to uphold our values for every story published.