For all the times Kansas University's quarterbacks have caused anguish the last five years, there seem to be just as many feel-good stories of perseverance at the position when another of them is called to duty.
Add one more fairy tale to the list now - and a real whopper at that.
Senior quarterback Adam Barmann managed KU's offense beautifully Saturday, leading the Jayhawks to a 13-7 victory over South Florida at Memorial Stadium.
Barmann threw no touchdowns, coughed the football up once and never amazed fans with a powerful arm or pinpoint accuracy.
But he didn't have to.
"It goes to show you," KU coach Mark Mangino said, "if you always stay prepared, if you don't complain about your circumstances in life, you might get chances. He made the most of another chance."
Barmann lost his shaky starting job to Brian Luke at the beginning of last year, won it back and then lost it again after a dreadful performance against Kansas State. That was the last time Barmann was seen in any significant situation until Saturday, after losing the job to potential-packed Kerry Meier in the spring.
Photo Gallery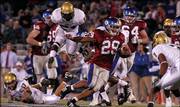 KU vs South Florida football
Barmann replaced Meier this week after Meier injured his arm in the loss at Toledo and never got back to 100 percent during preparation for USF.
Mangino didn't entertain any questions about a potential quarterback controversy when Meier gets healthy again. But KU's coach will have to eventually.
Because instead of a sputtering offense with low yardage per attempts like Barmann had demonstrated in the past two years, the senior completed 25 of 35 throws for 273 yards Saturday.
He had no interceptions.
He seemingly always got KU (3-1) the yardage needed on third downs.
He executed the option by the book, and it led to KU's lone touchdown by Jon Cornish early in the fourth quarter that put the Jayhawks up for good.
Audio Clips
2006 Football Univ. South Florida postgame comments
It was an inspiring sight for Mangino, who has seen it all in his four-plus seasons as coach when it comes to the quarterback position - injuries, inadequate play and, now, another case of the underdog coming through when his team needed him.
"He never once ever complained," Mangino said of Barmann. "He has had a great attitude on the practice field, in the meeting room. He's tutored Kerry. He helped (Jason) Swanson last year. He supported Brian Luke when things weren't good. He has been a team guy.
Mark Mangino talks about the Jayhawks' 13-7 win over South Florida
"What he has done is he has always prepared himself just in case we need him again."
Somehow, Barmann's overall performance overshadowed a high-strung finish to Saturday's contest.
Down six, South Florida went on an aggressive run in the last minute to try to take back the game. USF quarterback Matt Grothe had a 20-yard completion and a 14-yard run, giving the Bulls two cracks at the end zone from 27 yards out, possibly to win it.
The first attempt fell incomplete. The second was intercepted by Justin Thornton in the left side of the end zone as the clock struck zero.
It was the Jayhawks' third takeaway of the game - and all three came at critical times.
"We've been working on turnovers all season," said Paul Como, who had a textbook strip-and-fumble recovery in the second half. "We have a turnover circuit we do to try to preach turnovers. We kind of got lucky tonight."
Complemented by Cornish's 105 yards on 26 carries, Barmann and the Kansas offense did its job Saturday, even when the scoreboard didn't show it. The Jayhawks were pinned inside the 10-yard line three times to start drives in the first half, and on one of them, Barmann took Kansas 97 yards before a Marcus Henry fumble at the one-yard line ended it.
Go figure
0 First-half points by both teams combined
1980 Last time KU played a scoreless half
273 Passing yards by Kansas fill-in QB starter Adam Barmann
25-35-0 Passes completed, attempted, interceptions by Barmann
9-0 KU's home record over the past nine games
11:20 KU's advantage over USF in time of possession
+1 KU's turnover margin against USF (2 giveaways, 3 takeaways)
105 Rushing yards by Jon Cornish, his third 100-yard game of the season
With points as scarce as they were, Henry's cough-up could have been devastating.
But Barmann never seemed to waver when the near-misses struck Kansas. He was that consistent.
"I just feel a lot more comfortable," Barmann said. "This is my senior year. I just feel like there's so many things I've seen and so many things I've gone through throughout my career, I just feel a little more comfortable back there."
And as a result, Kansas is a little more comfortable heading into conference play. While a 3-1 record may have been the minimum expectation at this time of the season, 2-2 was staring the Jayhawks in the face for much of Saturday.
But with a feel-good story and a week-long emphasis paying off for the Jayhawks, Kansas is back on the right side of momentum with Nebraska next on the schedule.
"The main thing is, we took a bunch of kids that lost a tough game on the road last week and came back and played a very good football team here : and slugged it out with them and got the win," Mangino said. "That tells you a little bit about the character of our kids."
Copyright 2018 The Lawrence Journal-World. All rights reserved. This material may not be published, broadcast, rewritten or redistributed. We strive to uphold our values for every story published.