I look up, squinting across the room. "Katy, what did he get?" That's right: My daughter and I are watching ABC-TV's "Dancing with the Stars."
And as I work on my laptop, I overhear the announcer say Emmitt Smith, the legendary NFL running back, had just performed a "quick step" routine.
Emmitt Smith, dancing? I've got to see this.
But I can't.
I'd taken off my glasses so I could read my laptop computer screen. When I gaze across the room - How did Emmitt score on this field? - I don't see judges' scores, only blobs of blurry images.
And Katy can't help. She's already on her way upstairs - leaving me on my own, scrambling to find my glasses.
Out of focus
I understand the problem. As you age, the lenses in our eyes start losing their ability to flex and focus. It's a condition called "presbyopia," and is shared by about 93 percent of the world's population over age 45.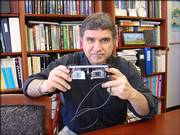 If you don't wear glasses, you suddenly need them to see up close to read. Or if you're nearsighted, like me, you might have to take your glasses off to see your laptop computer screen.
Bifocals - glasses with two types of lenses built into the frames, so that you can see both up close and at a distance - have been around since the 1700s.
In 1990, progressive lenses (sometimes called no-line bifocals) hit the market, becoming popular with baby boomers trying to hide their need for bifocals.
And in about three years, a new "smart" form of electronic glasses is coming.
The new specs will have automatic focus built in, letting you see either near or far in the blink of an eye, much like an auto-focus camera.
"It would replace bifocals and progressives," says Nasser Peyghambarian, a University of Arizona professor of optical sciences, materials science and engineering, who is leading the research.
But that's not all.
Audio Clips
Nasser Peyghambarian
Peyghambarian says his team of optical scientists have set their sights much higher.
"Ultimately, I think you would be able to see much better than 20-20," he says.
Liquid crystal
The key ingredient in the new eyeglasses is liquid crystal, similar to what's used in a laptop computer's display.
The liquid crystal is sandwiched in a 5-micron space between two layers of flat glass. The glass is coated with indium tin oxide, which are formed into transparent electrodes that are patterned in a circular array.
When less than two volts of electricity pass through the electrodes, the liquid crystal moves, changing the focus.
"It corrects within a split second," Peyghambarian says.
The result is a switchable lens that brings everything into focus, whether it's near, far or even in between.
Getting to market
Peyghambarian, who chairs photonics and lasers at the University of Arizona's College of Optical Sciences, is part of a team that's been developing the eyeglasses for six years. They've already licensed three patents to Johnson and Johnson Development Corp., which sponsored the research.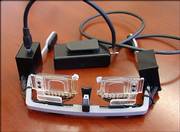 Pixel Optics, a company out of Roanoke, Va., has picked up the patent licenses and is in the process of commercializing the glasses. The company is gathering investors to finance turning prototypes into a marketable product.
"My suspicion would be about three years," Peyghambarian says.
He says people like me would be the first to benefit from the new technology.
"The first set of glasses would go after the problem of presbyopia," he says. "The next versions of them would replace your glasses with something that would be adaptive. That's so you don't have to take off glasses and put them back on again."
Still some bugs
Sounds good. But I have to ask: How would the electrical switching mechanism work in real life?
In the lab, Peyghambarian and his colleagues switch the voltage on and off by hand.
"The switching aspect of it is still under development," he says. "It could be automatically done. It could be by movement of the head. . . . It all is being studied at the present time to see how different patients would like it."
Ultimately, they envision programmable glasses, where an optometrist would download a new prescription into the frames. That's part of the process that Pixel Optics will tackle.
The company also is working on making the geeky-looking prototypes into something a little more fashion friendly, Peyghambarian says.
He compared the laboratory prototypes to early cell phones: they were boxy and weighed a couple of pounds when they first came out in the 1970s, but now are sleek, stylish and weigh about four ounces.
"That's the sort of progress I see in this technology, as well," he said.
Looking ahead
After presbyopia, what's next for this switch-focus lens technology?
"Pretty much getting rid of distortions that the eye would not be able to correct (because of astigmatism)," he said.
And he promises that the new lenses will continue to be developed, depending on what customers want.
I offer a few suggestions, such as making glasses that focus in on tiny objects or even enable us to have almost telescopic vision.
Imagine: Being able to read newspaper print from across the room, or even focusing in on a basketball coach's clipboard from the nosebleed section. ...
Nobody is discussing those ideas, Peyghambarian says. At least not yet.
"Those are the types of things that will happen when the prototypes are becoming commercialized and are on the market," he says. "All of a sudden, applications will come up that we haven't even thought about."
The ears have it
Back to the dancing. The judges are holding up their "quick step" scores for Emmitt Smith.
I keep squinting, but still can't make out the scores on TV. Blob after blob after blob.
Then I'm saved. I can still hear the judges call out their scores.
I go back to my laptop, realizing two things:
¢ Emmitt apparently can dance, scoring 24 out of 30 possible points (that's right, three touchdowns and a field goal).
¢ I might just have to wait awhile for some new switch-focus lenses.
Until then - the end of Emmitt's run this "Dancing" season and Peyghambarian's work someday hits the commercial playing field - hopefully my hearing will remain 20/20.
Copyright 2018 The Lawrence Journal-World. All rights reserved. This material may not be published, broadcast, rewritten or redistributed. We strive to uphold our values for every story published.